Technology
HQ Trivia Is a Hit. Now It Just Needs to Not Self-Destruct
Intermedia Labs figured out how to build a livestreaming audience with its game-show app. Can it survive the scrutiny that comes with success?
By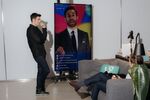 The open-plan office of Intermedia Labs is a noisy place. About 30 employees are crammed into the small loft in Manhattan's SoHo neighborhood, working over the din of garbage trucks and car horns. The 98-year-old building's elevator hums and clanks between floors, the heating system announces itself with a high-pitched whir, and the door to the bathroom seems to shake the whole place every time it's slammed shut. None of this would pose trouble for most startups, but Intermedia's office doubles as a soundstage. Most days, at 3 p.m. and 9 p.m., a skeleton crew shoots a live game show, HQ Trivia, that airs exclusively on smartphones and, at the moment, happens to be the hottest thing in media.
"We're soft live," the director of content shouts, sticking his head out of a closet that doubles as the HQ studio. "Please be mindful of slamming doors." Then, appearing slightly panicked, he gestures at the operations manager and yells, "The fan is still running!" While they spend a few minutes switching off the HVAC system and pulling a partition across the length of the office to dampen sound, 33-year-old host Scott Rogowsky throws on the jacket he wears for most shows, slips on and tightens a pre-knotted skinny tie, and steps in front of a green screen. A few minutes after 3 p.m., the camera's rolling. Rogowsky cracks a few jokes, announces that more than 200,000 viewers have logged in, and bellows, "Let's get this show on the rooooooo-oad, baby!"

HQ looks like an ordinary, albeit low-rent, game show. Each 15-minute online broadcast comprises 12 multiple-choice questions, which start out reasonably easy and get maddeningly obscure. For this installment, shortly before Christmas, Rogowsky begins by asking contestants to identify Tom Cruise's airplane in Top Gun (the Tomcat) from among three choices that include the Batwing and the Millennium Falcon. A later question asks for an earlier name of the First Transcontinental Railroad (the Overland Route). The twist is that any viewer can be a player, tapping the phone's screen to lock in answers. Those who correctly answer all 12 questions win a share of the prize pool, which currently ranges from $2,000 to $18,000. The purse is paid by Lightspeed Venture Partners, Intermedia's main backer, which has invested $8 million.
That interactivity has people hooked. Four months into its broadcasts, HQ generally attracts at least 400,000 viewers in the afternoon and more than 600,000 in prime time. Those are impressive numbers in the world of online live video. In September, Amazon.com Inc.'s first Thursday NFL broadcast had an average live audience of 372,000.
HQ's popularity has thrust its creators into the spotlight. In December, the New York Post wrote about Rogowsky's dating life, the Wall Street Journal published a front-page story on the many workplaces that effectively shut down during HQ games, and the Atlantic offered a lengthy essay warning that the app is "a harbinger of dystopia." On Christmas Day—"Quiz-mas," Rogowsky called it—a mini news cycle was devoted to one of the latest winners: former CBS Evening News anchor Dan Rather.

Like any sensible, promising, VC-backed startup, Intermedia isn't trying to make money. But "advertisers are obsessed," says Chief Executive Officer Rus Yusupov. "They're hitting us up." Yusupov had co-founded Vine Labs Inc., whose once-hot video app languished and eventually shut down after the company was sold to Twitter Inc. for $30 million in 2012. Intermedia is negotiating for more venture funding that could value it at as much as $100 million.
A year ago, HQ's sudden cachet probably would have made that kind of deal a certainty. But after the implosion of several once-promising unicorns (Jawbone, Theranos, Zenefits) and the wave of allegations of sexual harassment and mismanagement that began at Uber Technologies Inc., investors are more careful with their money. Intermedia's own brief history has also given them reasons to be wary.
First, there are the technical hiccups. HQ players have become accustomed to routine errors—video feeds failing to appear or freezing and booting people out. The show I watched in person had about half its typical viewership; the app failed to send some users the usual push notification alerting them that a game was starting. Several times in the past month, Intermedia's servers crashed altogether, scrapping the scheduled game. During a heavily promoted New Year's Eve show, the questions failed to load on people's phones, forcing Rogowsky to vamp awkwardly for several minutes. The problems have created an opening for lookalike game shows—The Q, G.O.A.T., and others—though none has attracted a big audience yet.

Yusupov says these are standard growing pains for a new enterprise. HQ's success has surprised even its creators; it was conceived as part of an attempt to promote Intermedia's video app Hype, which failed to catch on. The company was also experimenting with a concept for a DIY-focused game show and another program built around matching celebrities with their baby photos. Yusupov says his focus now is on building a "100 percent participatory" streaming network.
That's more ambitious than it sounds. Most online video streams billed as "live," including Amazon's NFL broadcast, can be delayed by 30 seconds or more so broadcasters have time to compress the video feed transmission. A 30-second delay isn't practical for HQ, whose players have only 10 seconds to answer each question. Intermedia has just two seconds to compress its feed. "It's superhard," says Yusupov, who oversees each broadcast, making last-minute tweaks to questions from a team of four writers and fact-checkers. "We're doing something that really hasn't been done before."
There are personal difficulties to match the technical ones. In November, Yusupov lost his cool after the Daily Beast tried to profile Rogowsky. He complained that the writer hadn't cleared an interview with him and threatened to fire Rogowsky if the site published its story. The Daily Beast published, of course, and Yusupov apologized in a tweet "for being a jerk," as he put it. "I learned that I'm good at working with engineers and designers and building products," he now says. "And I learned that I'm not good at working with talent and doing PR stuff."
Questions about the maturity of Intermedia's management were magnified in mid-December when tech-news site Recode reported that several venture firms had raised concerns about his co-founder Colin Kroll's "creepy" behavior toward women at Twitter when the two men worked there. That prompted an investigation by Lightspeed. According to partner Jeremy Liew, the venture firm concluded that though Kroll was unpopular at Twitter, he wasn't a harasser. In a statement, Liew said he "did not find evidence that warrants his removal from the company."
An Intermedia spokeswoman says the company is "committed to maintaining a workplace where everyone feels safe, respected, and valued." Kroll declined to comment.
Concerns about Yusupov and Kroll might be beside the point if Intermedia can't capitalize on its early success. So far, audiences have shown no sign of tuning out despite the bad press, think pieces, and technical snafus. For the 9 p.m. edition on New Year's Day, HQ attracted close to 1 million viewers but capped the game at a record 750,000 players because of technical problems. "We'll see where this goes," Rogowsky says after the show I watch in person, pulling off his tie and collapsing onto a sofa. "I mean, Jeopardy! can run for 30 years, so why can't we?"
BOTTOM LINE -
HQ has figured out how to get tons of people to watch live streaming video at the same time. Now it's trying to outgrow its technical problems, and maybe a co-founder.
Before it's here, it's on the Bloomberg Terminal.
LEARN MORE