South Korea Has a New Online Gaming Billionaire
By
Pearl Abyss's Kim worth $1.1 billion as stock surges after IPO

Game hit market in 2014, now played in more than 100 countries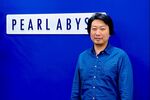 Pearl Abyss Corp.'s role-playing hit Black Desert Online has helped make founder Kim Dae-il South Korea's latest internet-gaming billionaire.
Shares of the Anyang-based developer have more than doubled since its September initial public offering, adding about $689 million to Kim's fortune and giving him a net worth of $1.1 billion, according to the Bloomberg Billionaire's Index. Kim, who directly owns 39 percent of the company, confirmed his net worth and the size of his stake.
"Gaming and IT industries require less investment at an early stage compared to other areas," Kim, 37, said in an email. "So a lot of things can be tried if you put in time and effort."
The company, which started with just seven employees in 2010 and as of Sept. 2017 had more than 200, plans to release a mobile version of Black Desert toward the end of this month. More than 2 million users have registered for the game in just three weeks.
"Expectations in the lead-up to the company's expansion into mobile gaming with a new game launch have been pushing up the stock price," said Kim Hak-joon at Kiwoom Securities in Seoul. Black Desert, which is played in more than 100 countries, "suits the tastes of overseas players with its offering of more freedom to choose options," he said.
Microsoft Partnership
The original online game that hit the market in 2014 has generated sales exceeding 400 billion won ($376.6 million), with about 80 percent of that coming from abroad.
Pearl Abyss is looking to expand to other platforms and partnered with Microsoft Corp. to introduce Black Desert to the console market this year. Kim said at least two new games are in development.
Kim dropped out of college to pursue his dream of creating games. With Black Desert's success, he joins the industry's other self-made billionaires, including Bang Jun-hyuk of Netmarble Games Corp. and Kwon Hyuk-bin of Smilegate Holdings.
Before it's here, it's on the Bloomberg Terminal.
LEARN MORE