Activists Who Fought Obama's Offshore Oil Plan Take Aim at Trump's
By
Obama gave up on Atlantic drilling after East Coast opposition

Expansive plan would open door to drilling in most U.S. waters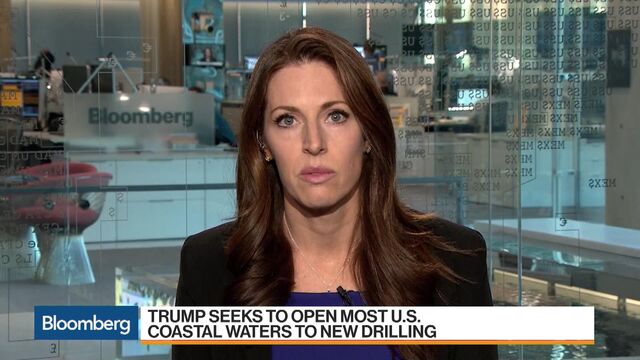 Environmental activists and coastal residents who successfully fought an Obama administration plan to sell drilling rights in the Arctic and Atlantic are vowing a rerun now that President Donald Trump has proposed opening more than 90 percent of the U.S. coast to new oil exploration.
But the Trump administration isn't making it easy. 
Its proposal, the biggest in U.S. history, will force opponents to stretch their resources and combat possible drilling on multiple fronts, rather than in the eastern Gulf of Mexico, Arctic waters and Atlantic Ocean where oil companies are believed to be most interested in nabbing new territory.
"Without a massive mobilization by coastal communities around the country in opposition to new offshore drilling, our voice will be drowned out by the lobbying power of Big Oil in Washington, D.C.," said Chad Nelsen, chief executive of the Surfrider Foundation, an environmental group in San Clemente, California.
The administration's plan for as many as 47 lease sales in 25 of the nation's 26 offshore planning areas aims to fulfill Trump's pledge to unleash the vast energy wealth of the U.S., making the country a dominant exporter of oil and gas around the globe.
Earlier Story: Trump Seeks to Open Most U.S. Coastal Waters to New Drilling
"This decision could bring unprecedented access to America's extensive offshore oil and gas resources and allows us to better compete with other oil-rich nations," said Vincent DeVito, a counselor for energy policy at the Interior Department.
Activists who contend drilling operations can harm marine life even without a single oil spill will have plenty of chances to make their voices heard. The Interior Department's draft is only an initial step in assembling a new five-year schedule for selling offshore oil leases from 2019 to 2024, replacing an Obama-era plan spanning 2017 to 2022. The process begins broadly, with the number of potential sales and the available acreage generally whittled down in response to public comments and environmental reviews.
There are still at least two major milestones before a final lease sale schedule could be imposed, including the release of a proposed program later this year. 
Interior Secretary Ryan Zinke took pains to stress that what's on the table now may not remain in the final sale plan. "Not all areas are appropriate for offshore drilling, and we will take that into consideration in the coming weeks," Zinke said on Thursday.
About Face
There's precedent for the Interior Department to reverse course.
Under former President Barack Obama, the department initially considered selling oil and gas leases in the Arctic and Atlantic oceans before a backlash from coastal communities persuaded regulators to abandon that plan. And in December 2016, Obama took a harder step against widespread coastal drilling by formally withdrawing more than 100 million acres of Arctic waters from future oil leasing. Trump's decision to rescind that Obama order now is being challenged in federal court.
More than 140 East Coast municipalities, from Florida to New York state, have lodged their opposition to expanded offshore drilling, mostly in direct response to the Obama administration proposal. Environmentalists persuaded city councils to pass resolutions denouncing new drilling, flooded government inboxes with comments, and even donned fish costumes in colorful rallies opposing expanded offshore oil development.

"Today's announcement by the Trump administration willfully ignores coastal governors, communities, businesses, and elected leaders up and down the coast who've made it clear they don't want drilling off their shores," said Sierra Weaver, a senior attorney with the Southern Environmental Law Center. "In 2016, Southern communities along the Atlantic coast successfully fought off an attempt to bring offshore drilling to their coasts, and they will do the same again."
Similar passion is being stoked in California, where a 1969 oil spill off the coast of Santa Barbara helped launch the modern environmental movement. All three governors on the U.S. West Coast oppose new offshore drilling nearby.
Lawmakers from Florida also have united against expanded drilling, with Senators Bill Nelson, a Democrat, and Marco Rubio, a Republican, arguing the government should go in the opposite direction and extend a ban on oil development in the eastern Gulf of Mexico that's currently set to expire in 2022. Florida Governor Rick Scott, a Republican, asked for an immediate meeting with Zinke to argue against selling leases near the state.
"The people of Florida and its leaders have made it clear over and over again: We do not want drilling near our shores; we do not want to put our beautiful beaches and environmental treasures at risk," said Representative Carlos Curbelo, a Republican from Florida. "We simply have too much to lose."
Before it's here, it's on the Bloomberg Terminal.
LEARN MORE