Harvard Professor Says Foreign Militaries Could Help With Venezuela's Regime Change
By
With 'country falling apart,' foreign assistance is needed

'The reality on the ground is beyond belief,' Hausmann says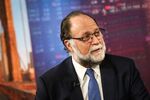 Harvard University Professor Ricardo Hausmann has a plan to halt Venezuela's free-fall into an economic and humanitarian crisis for the ages, and it requires help from foreign militaries.
Venezuela's opposition-led National Assembly should use its constitutional power to impeach President Nicolas Maduro and Vice President Tareck El Aissami, and then usher in a new government to be run -- at least temporarily -- by the assembly's leader, Hausmann said in a column published Tuesday by Project Syndicate. To ensure a democratic transition, the nation will need assistance from foreign military forces, said the country's former planning minister, who now runs Harvard's Center for International Development.
"Solutions have to be proportional or respondent to the reality on the ground, and the reality on the ground is beyond belief," Hausmann said in a followup interview from Miami. "That's the context in which we should be having this discussion. It's in the context of a country that is falling apart, a country that is dying. People are dying in droves."
Venezuela is in a deep depression, with gross domestic product contracting for four years in a row, according to analysts' estimates. Years of government interference in the economy and the 2014 crash in the price of crude -- the mainstay of the Venezuelan economy -- have left the country battered by quadruple-digit inflation and a shortage of affordable food and medicine. The U.S. government imposed sanctions against officials in Maduro's administration last year after what it said was a government power grab.
Still, Hausmann's call for possible military action is outside the mainstream of political thought in Latin America, where Donald Trump's suggestion in August that the U.S. military could intervene in Venezuela was met with broad condemnation. It's also sure to draw the ire of Maduro, who frequently claims that imperialist powers are scheming to topple him by coup or invasion, and has in the past instructed his attorney general to take "actions" against Hausmann for comments that he says were an attempt to destabilize the country.
The once-prosperous nation is plagued by a plunge in imports that has left Venezuelans shedding weight or literally starving. An investigation by the New York Times found a surge in child malnutrition, with doctors interviewed reporting some 2,800 cases last year, including almost 400 deaths. Per Hausmann's estimates, a kilo of pork now costs 85 hours of labor at the minimum wage, 20 times the price in Colombia.
With the opposition in tatters, and their participation in free and fair elections this year in question, impeaching Maduro through the National Assembly may be one of the only remaining ways for Venezuela to change course, Hausmann said. The body has been largely sidelined after Maduro created a new legislative super body that took over most of the functions of Congress and is working on rewriting the constitution.
But under current laws, lawmakers can oust Maduro and El Aissami and seek to install a new government led by the head of the National Assembly. That person could then call on international forces to provide military assistance to restore a democratic order, said Hausmann. Those would include countries that have condemned Maduro's actions to consolidate power, including the U.S., Canada, France, Spain, Chile, Mexico, Argentina, Peru and Brazil, he said.
Their willingness to help should be motivated by factors including the loss of Venezuela as a viable market for exports, the flood of Venezuelan immigrants seeking refuge, and the spread of infectious diseases like malaria and tuberculosis on the back of drug shortages, according to Hausmann.
"My guess is in most of these instances the Venezuelan military are going to back down because they know they are completely outgunned, so it doesn't make any sense for them to fight," he said. And because the outside forces are invited, rather than invading, the plan wouldn't require approval from the United Nations Security Council, he said.
A spokesman for the National Assembly declined to comment on Hausmann's plan.
At the very least, Hausmann believes the option he's posited should bolster the opposition when they resume discussions with Maduro's government in the Dominican Republic. The two sides are slated to meet there next week.
"The proposal I'm making is a proposal that strengthens the hand of the opposition," Hausmann said. "It's a best alternative to a negotiated agreement."
— With assistance by Patricia Laya, and Andrew Rosati
Before it's here, it's on the Bloomberg Terminal.
LEARN MORE