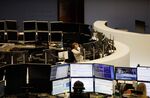 Hit movies often spawn remakes that try to improve on the original with better special effects and a bigger budget. Financial regulation is no different: Europe's new MiFID II rule-book, launched on Wednesday, seeks to fix its predecessor's bloopers while also updating the plot for modern viewers who don't want to see a repeat of the 2008 crisis. If MiFID I was all about promoting competition and making trading cheaper, MiFID II wants an emphasis on investor safety and transparency, taking its cue from new global standards and past excesses.
But is it actually any good?
Early reviews on day one have been mixed. Traders and bankers complain that in wanting to make markets safer, regulators are creating unintended consequences. They fret trading will dry up as the combination of pricier research on equities, restrictions on cheap off-exchange trading and a more onerous reporting process puts clients off. The change is starkest for fixed income, where bond trades now have to be reported within 15 minutes. Fund manager Paul McNamara jibed that nobody involved in the writing of MiFID II's 1,500-page script could have ever worked on a trading floor or in a fund.
There's also the small matter of whether MiFID II ends up penalizing the small, independent financial institutions that had hoped to prosper in a more transparent and level European playing field. As my colleague Chris Hughes has pointed out, the rule-book's attempts to stop the cozy cross-subsidization of research may simply shrink the market overall, putting big diversified banks in a more comfortable position versus the boutiques. And then there's simply the overall industry cost of implementation, estimated at $2.1 billion in 2017: Mid-tier firms are seen paying proportionately more than top rivals.
But while these worries may prove valid eventually, right now it's simply too early to write off MiFID II. There's no evidence yet that volumes, though lower, are suffering structurally rather than seasonally given that we are still in the first week of January. Nor is there any clear direction yet on the cost of trading: Some fund managers reckon that execution costs will keep falling in an industry that's still very competitive, with banks able to sign up as "systematic internalizers" to keep competing with exchanges. Trading volumes could actually rise, despite worries that top banks' revenue could fall, reckons S&P.
And for all the buzz about Wednesday's Day One launch, the biggest flaw that's immediately obvious is that much of MiFID II has yet to be implemented. There's a six-month grace period for firms that haven't quite got their regulatory house in order; derivatives exchanges like Eurex and ICE have won a reprieve until summer 2020 to implement new rules promoting competition. Just as it took years for MiFID I's successes and failures to become apparent, the same will be true of the sequel.
MiFID II is certainly flawed and imperfect, but it was also necessary. European regulators were under pressure to enact post-crisis global rules, and also address blind spots from local issues -- not least the conflicts of interest inherent in trading, which the U.K.'s FCA regulator pushed the hardest to fight. The biggest blind spot may end up being political: the populist wave supporting Donald Trump, Brexit, and even the no-holds-barred world of Bitcoin contain strong anti-regulation strains that could make MiFID II's onslaught of rules look out of date. But that's a debate for the next round of rules. MiFID III, anyone?
Before it's here, it's on the Bloomberg Terminal.
LEARN MORE