business
Michael Cohen, Once of Och-Ziff, Charged With Fraud by U.S.
By , , and
Unpaid loan to buy yacht allegedly prompted share-sale scheme

Charity not told Africa investments enriched Cohen, U.S. says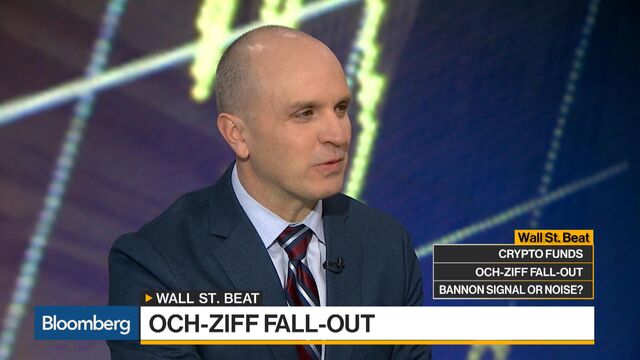 Michael Cohen, a former head of the European operations of Och-Ziff Capital Management Group, was charged with fraud related to the hedge fund firm's activities in Africa, according to an indictment made public Wednesday.
It's the latest reverberation from more than five years of inquiries by U.S. officials into the African activities of the giant publicly traded hedge fund firm. Back in September 2016, a unit of Och-Ziff pleaded guilty to bribing officials in Africa to win business. The firm paid hundreds of millions of dollars and its chief executive officer paid about $2 million to resolve the matter.
Cohen, a 46-year-old American based in London, was a rising star at Och-Ziff who spearheaded the firm's European expansion while still in his 20s, led its foray into Africa and bought a 900-acre estate in the English countryside. 
Prosecutors charged him with 10 counts including conspiracy to commit investment adviser fraud, conspiracy to commit wire fraud, conspiracy to obstruct justice and making false statements. Cohen isn't in U.S. custody, a person familiar with the matter said.
Yacht Loan
Prosecutors accuse him of concocting a scheme to enrich himself at the expense of a U.K. charity, which they didn't identify. That charity is the Wellcome Trust, two people familiar with the matter said. The organization, which supports research in science, health and other areas, didn't immediately respond to a request for comment.
Cohen had loaned money to a business associate for a luxury yacht. When the official was unable to make payments, Cohen brokered a sale of mining-company shares owned by the official to the unsuspecting charity, according to prosecutors and information in an earlier action by the Securities and Exchange Commission. Cohen then pocketed a portion of the proceeds.
"Mr. Cohen has done nothing wrong and is confident that when all the evidence is presented, it will be shown that the government's charges are baseless," his attorney, Ron White, said.
U.S. inquiries into misconduct in the Democratic Republic of Congo, Libya and other African countries bedeviled the U.S.'s largest publicly traded hedge fund firm for years, causing investors to pull assets and prompting defections of personnel. Since Och-Ziff's 2016 deal with the Justice Department and the SEC, which included penalties of $400 million, the fund has remade itself into something of a fixed-income shop and now has half of its $32 billion in assets tied to credit.
As part of the 2016 settlement with Och-Ziff, the fund's founder and CEO, Daniel Och, personally agreed to pay nearly $2.2 million. The SEC said that Och, the founder, didn't know about the illegal activity. Och-Ziff, in a statement, said the allegations in the indictment against Cohen didn't raise any new issues for the firm.
Continuing Probe
After the settlement, authorities continued their investigation of individuals in the Africa matter. In early 2017, the SEC sued Cohen, alleging that he oversaw a scheme to pay tens of millions of dollars across Africa to win business.
Now U.S. prosecutors in Brooklyn, in an indictment filed in October, allege that Cohen defrauded one of Och-Ziff's investors, the U.K. charity later identified as Wellcome, to make himself partly whole on a soured side deal.
In 2008, Cohen loaned $18 million to a London-based businessman with ties to top Libyan officials, who used the funds to build a "super yacht," according to U.S. filings. The U.S. says the businessman, who isn't identified, bribed Libyan officials so the hedge fund could win a deal to manage the country's investments. The businessman secured his yacht loan with a stake in Strata Ltd., described as a London-based mining holding company. 
When the businessman couldn't pay up in 2010, prosecutors say, Cohen brokered a deal for the charity to buy a stake in the mining company, without disclosing that $4 million in proceeds from the sale would be used to repay some of the debt owed to him.
SEC Probe
After the SEC began investigating Och-Ziff bribery allegations, Cohen in 2012 instructed the businessman to write a letter, backdated to before the transaction, saying that proceeds from the stock sale wouldn't be used to repay any portion of the yacht loan. When U.S. authorities asked about the letter a year later, Cohen denied it had been backdated, prosecutors said.
"Michael Cohen violated his fiduciary duties as an investment adviser, deceiving a charitable foundation, in order to enrich himself and his associates," said Bridget Rohde, the acting U.S. attorney in Brooklyn. "The deceit continued when he learned that the U.S. government was investigating his activities, was confronted with evidence of the alleged crimes and responded with a cover-up."
— With assistance by Franz Wild
(
Updates with name of charity in fifth paragraph.
)
Before it's here, it's on the Bloomberg Terminal.
LEARN MORE