Manafort Suit Seeks to Undermine Mueller's Legal Authority
By and
Special counsel overstepped his mandate, Manafort claims

Ex-Trump aide says he told U.S. in 2014 about Ukraine work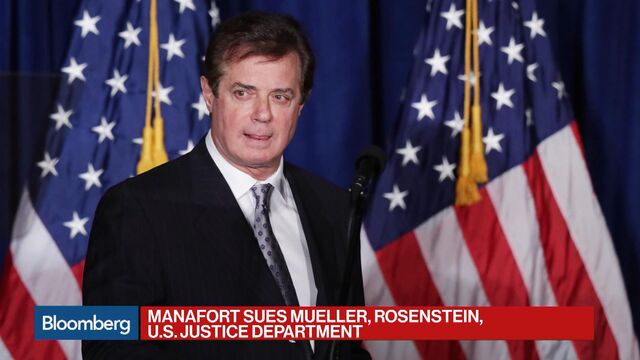 Paul Manafort claims that U.S. Special Counsel Robert Mueller overstepped his authority in charging Manafort with crimes related to business conducted long before he became President Donald Trump's campaign chairman and that involve events unrelated to Russian election meddling.
In a lawsuit filed Wednesday, Manafort also says he volunteered information about his political consulting work in Ukraine to U.S. authorities in 2014 -- or three years before his indictment for the "very conduct he voluntarily disclosed."
Manafort sued after weeks of mounting assaults by many Republicans and conservative media of Mueller and members of his team, attacking them as unfair and biased. His request to nullify Mueller's actions related to Manafort was unusual because it came as a civil lawsuit rather than a motion to dismiss the criminal case.
While Mueller's mandate is to pursue "any matters that arose or may arise directly from the investigation," his prosecutors ignored those boundaries by building a conspiracy and money laundering case that had nothing to do with Russian meddling in the 2016 election, according to the complaint filed in Washington.
"The investigation of Mr. Manafort is completely unmoored from the special counsel's original jurisdiction," Manafort's lawyers said in the complaint. They seek an order invalidating "all actions" by Mueller against Manafort and that bars prosecutors from further investigating his business dealings.
Mueller's spokesman, Peter Carr, said he hadn't seen the filing and declined to comment. "The lawsuit is frivolous but the defendant is entitled to file whatever he wants," the Justice Department said in a statement.
Broad Authority
Legal experts have said Mueller's prosecutors have broad authority under his appointment to pursue the evidence where it leads them. Manafort's case appears to be "an uphill battle that's unlikely to succeed," said Solomon Wisenberg, a Washington defense lawyer who worked under Whitewater probe Independent Counsel Ken Starr during the Clinton administration.
Wisenberg pointed out that Manafort's lawyer concedes the attorney general or somebody acting in his place -- in this case, Rosenstein -- has the authority to set the special counsel's jurisdiction. That jurisdiction gave Mueller the ability to investigate Russia's influence as well as anything arising from that probe, Wisenberg said. The complaint accuses Rosenstein of exceeding that authority that the regulations say he has, Wisenberg said.
"It's a circular argument," he said.
What Is and Isn't Special About a Special Counsel: QuickTake Q&A

Manafort sued Mueller, the Justice Department and Rod Rosenstein, the deputy U.S. attorney general overseeing the investigation because Attorney General Jeff Sessions recused himself. He claims they violated the Administrative Procedures Act and failed to follow the special counsel rules. 
An Oct. 27 indictment accuses Manafort and a longtime associate, Rick Gates, of failing to register as agents in the U.S. for political consulting they did for Ukraine and pro-Russian politicians there. It also accused them of conspiring to launder millions of dollars and hiding offshore bank accounts. Manafort laundered money from overseas to buy houses, cars, clothes, antiques and landscaping services, the U.S. said. Both men have pleaded not guilty.
Voluntary Disclosures
Manafort, 68, who advised Republican presidential candidates in the 1970s and '80s, later moved into lobbying and political consulting, working with foreign leaders to ingratiate themselves with Washington. His roster of clients, some with unsavory reputations, included deposed Ukrainian leader Viktor Yanukovych, an ally of Russian President Vladimir Putin.
In his complaint, Manafort said he met voluntarily with the Federal Bureau of Investigation and Justice Department on July 30, 2014, and provided a detailed explanation of his activities in Ukraine. He detailed his frequent contact with U.S. diplomats in Kiev "and his efforts to further U.S. objectives in Ukraine on their behalf."
Prosecutors at the time "maintained that they were assisting the Ukrainian government in locating stolen assets," according to the complaint. "The investigation focused on the activities of a former Ukraine president and was closed soon after Mr. Manafort's interview."
Manafort also claims he told prosecutors about his offshore banking activity in Cyprus. Prosecutors accuse Manafort of laundering money through Cyprus in dozens of wire transfers between 2008 and 2013.
Mueller's Net
The lawsuit offers some glimpses into the broad net that Mueller cast in assembling the case. 
It said that in July, Mueller obtained a search warrant after telling a judge that his appointment order gave him jurisdiction "to obtain materials that purportedly evidence potential criminal tax and white-collar crimes committed on or after January 1, 2006." In August, Mueller issued more than 100 subpoenas related to Manafort, seeking records dating to Jan. 1, 2005.
Manafort's lawyers pushed back against the breadth of Mueller's inquiries. On Aug. 3, a lead prosecutor told Manafort's then-lawyer that Mueller was authorized to prosecute Manafort for tax crimes committed in 2010, the lawsuit said. On Sept. 12, Manafort's current attorney, Kevin Downing, wrote a letter to Rosenstein asking if he granted Mueller "additional jurisdiction" to investigate Manafort for white-collar crimes dating to 2006 and tax crimes in 2010. Rosenstein didn't reply, the complaint said.
The criminal case is U.S. v. Manafort, 17-cr-201, U.S. District Court, District of Columbia (Washington). Manafort's civil suit is Manafort v. U.S. Department of Justice, 18-cv-11, U.S. District Court, District of Columbia (Washington).
Before it's here, it's on the Bloomberg Terminal.
LEARN MORE