Macron Urges EU to Stress Iran Human Rights, Keep Nuclear Accord
By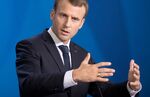 French President Emmanuel Macron said the European Union's response to the unrest in Iran must be "coordinated and useful" by stressing the importance of human rights in the country without calling into question the Iranian nuclear accord.
"Breaking all contact would lead to the risk of strengthening the extremists," Macron said Wednesday evening, speaking to reporters in Paris after a New Year's greetings to the press.
Asked whether U.S. pressure was behind the decision to postpone a visit to Iran Friday by Foreign Minister Jean-Yves Le Drian, Macron said: "Do I look like someone who bows to pressure?" He said the postponement was a joint decision with Iran given the situation in the country.
Macron spoke by phone with Iranian President Hassan Rouhani Tuesday evening. A statement from Macron's office stressed the importance of human rights in Iran, while Iranian state television stressed their agreement to maintain the nuclear accord.
No new demonstrations were reported Wednesday in Tehran amid a heavy police presence, after a week of nationwide protests left about 20 people dead over the past week.
Before it's here, it's on the Bloomberg Terminal.
LEARN MORE