Ford, GM Sales Beat Estimates
By , , and
Ford posts surprise gain; F-Series has best year since 2005

Nissan, Honda miss estimates; Industry sales to drop in 2018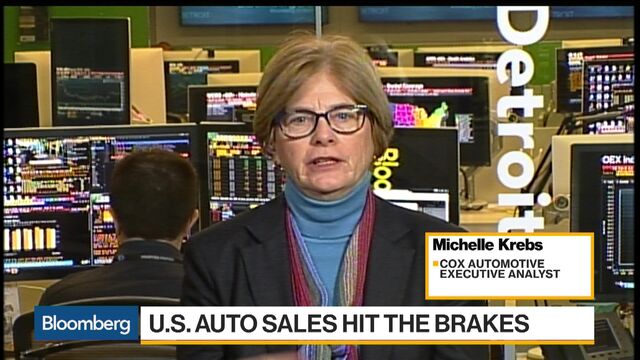 Carmakers capped their first year of shrinking U.S. sales since the recession on a high note, with surging truck demand buoying General Motors Co. and carrying Ford Motor Co. to a surprise gain.
Ford's light vehicle deliveries rose 1.3 percent last month as its F-Series pickup line had its best year since 2005. GM reported a less dramatic monthly drop than analysts expected, as sales of the Chevrolet Silverado climbed 25 percent.
All major automakers had been projected to report declining sales to wrap up the market's first down year since 2009, when GM and Chrysler went bankrupt. But most companies beat or matched estimates thanks to a strong close to the year for pickup models that are helping carmakers command record prices, according to shopping website Kelley Blue Book. The three largest Japanese manufacturers all reported declines in sales.
"This year, it'll be an even bigger year for trucks, because there are new ones coming," Michelle Krebs, an analyst at Autotrader, said on Bloomberg Television. "We know that Fiat Chrysler will be introducing a new Ram this year. General Motors has a couple of new full-size pickup trucks and Ford will have some additions to the F-Series. So, it's going to be the year of the truck."
Fiat Chrysler Automobiles NV, which reported deliveries that were in line with analyst estimates, climbed 4.1 percent in New York trading, while GM jumped 2.4 percent.
Read more: GM inventory plunges after year of bloated supply
The industry posted an annualized selling rate, adjusted for seasonal trends, of 17.9 million light vehicles in December, beating the 17.7 million average estimate of analysts surveyed by Bloomberg News. For the full year, deliveries slipped 1.8 percent to 17.2 million, according to researcher Autodata Corp.
"I'm actually surprised the industry was as strong as it was, we had some pretty severe weather, bitterly cold in much of the country," Mark LaNeve, Ford's U.S. sales chief, said on a call with analysts and reporters. "That typically isn't great for vehicle shopping, but the industry ran really strong in the last 10 days" of the month.

Ford's F-Series was the top pickup in the U.S. for the 41st consecutive year and extended to 36 years its annual reign as the best-seller among all vehicles. Toyota Motor Corp.'s RAV4 was the leading sport utility vehicle for the first time and joined Nissan Motor Co.'s Rogue crossover in outselling all passenger cars in what was a bleak year for sedans.
Read more: Toyota RAV4 climbs sales ranks, Camry keeps car crown
Fiat Chrysler reported an 11 percent decline for the month. While the automaker's U.S. sales have dropped each of the last 16 months, it's been curbing discounted shipments to rental-car companies and other fleet buyers. Deliveries to those customers plunged 42 percent in December.
Toyota posted an 8.3 percent decrease in December sales, in line with analyst estimates, while Nissan and Honda Motor Co. trailed projections with declines of 9.5 percent and 7 percent, respectively. As Japan's markets came online for the first time in 2018 after the S&P 500 Index climbed to a fresh record high in the U.S., shares of Toyota and Honda rose as much as 2.2 percent in Tokyo. Nissan gained 1.2 percent.
Industry sales in 2018 will probably drop again thanks in part to higher interest rates and greater availability of used sport utility vehicles. The average analyst estimate is for 16.7 million light-vehicle sales in 2018, which is still a healthy level by historical standards.
Light trucks, which include pickups and SUVs, gained share last year, accounting for 63 percent of U.S. sales, up from 59.5 percent a year earlier, according to Autodata. Consumers like the extra storage space, higher seating position and improved fuel economy of car-based SUVs, also called crossovers.
— With assistance by John Lippert, and David Westin
Before it's here, it's on the Bloomberg Terminal.
LEARN MORE