politics
Iran Protests Accelerate Trump's Weighing of New Sanctions
By and
He also faces decisions on sanctions waived in nuclear deal

About 20 people have died in demonstrations since last week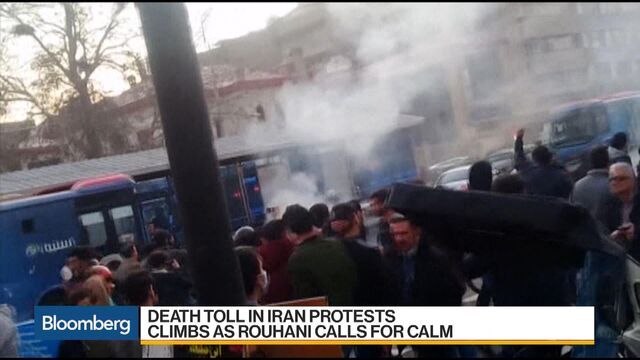 Deadly protests in Iran have intensified talks within the Trump administration about imposing fresh sanctions against the Islamic Republic, as the U.S. president seized on the crisis to justify his long-standing opposition to a 2015 nuclear agreement.
President Donald Trump met Tuesday with Vice President Mike Pence and members of his national security team to discuss the protests amid deliberations already under way about reimposing suspended sanctions or adding new ones, according to two White House officials who asked not to be identified discussing internal deliberations. The meeting came about 10 days before Trump must decide whether to continue waiving sanctions that were lifted under the nuclear deal between Iran and world powers.
"We certainly keep our options open" on adding to U.S. sanctions, White House press secretary Sarah Sanders told reporters Tuesday. Trump took to Twitter earlier in the day to say the "people of Iran are finally acting against the brutal and corrupt Iranian regime," while U.S. Ambassador to the UN Nikki Haley said she'll call for an emergency session of the United Nations Security Council.

"We must not be silent," said Haley, who rejected Iranian government accusations that the protests have been orchestrated from abroad. "The people of Iran are crying out for freedom."
An administration official said that no decision on sanctions had been made, but one of the options being discussed was imposing targeted sanctions on Iranian officials. A more drastic option would be reinstating the sanctions suspended by the nuclear accord, but that would almost certainly destroy the agreement, and the official, who spoke on the condition of anonymity, said such a step would not be taken lightly.
Trump last year requested that Congress set specific trigger points that would automatically re-impose sanctions unless Iran meets a list of U.S. demands, including to curb its ballistic missile program.
Rising Prices
Unrest in Iran began Dec. 28 with a rally against rising prices and the government's handling of the economy, before turning into a wider protest against the political establishment. Nine people were killed in various cities during clashes Monday, according to state-run television, bringing the death toll to about 20. Since Saturday, 450 people have been held in the capital Tehran, 150 were arrested in Hamedan and an additional 138 have been detained in Mashhad, according to local officials.
Now, the protests may be slowing. There were no demonstrations or gatherings on Tuesday evening in downtown Tehran's Enghelab Square, the vast intersection close to Tehran University that has historically been a focus of political protests in the capital and was the site of protests over the weekend.
Black armored police vans dotted the corners of the square. Scores of uniformed regular police holding batons and riot police clad in black anti-riot gear were deployed in the middle of the square and lined the main thoroughfare bisecting it, Enghelab Street. Many shops closed early while others were back to regular hours after having been forced to shut down over the past few nights because of clashes.
"They're not out tonight, thank God," said a shop owner who didn't want to be named because of the sensitivity of speaking to foreign media.
The U.S. threat comes ahead of deadlines Trump faces this month on whether to continue waiving the sanctions that were frozen in return for Iran agreeing to curb its nuclear program. Trump declined last year to certify Iran's compliance with the agreement, though Congress didn't pass new sanctions that would probably scuttle the accord.
Oil hovered close to a 30-month high as the unrest in Iran heightened concern about potential supply disruptions in OPEC's third-biggest crude producer. The country pumps about 3.8 million barrels a day.

The crisis has given Trump an opportunity to pressure critics of his approach to Iran and the nuclear accord, which he has long criticized as the "worst deal ever." And by publicly praising protesters, Trump is also separating himself from the approach President Barack Obama took to street demonstrations that followed Iranian elections in 2009. At the time, the Obama administration said too much American support for protesters would only delegitimize their cause.
Referring to the nuclear deal, Trump tweeted on Tuesday that "All of the money that President Obama so foolishly gave them went into terrorism and into their 'pockets.' The people have little food, big inflation and no human rights. The U.S. is watching!"
International inspectors -- and the five other countries than joined the U.S. in signing the nuclear deal with Iran -- have found it's abiding by its restrictions on its nuclear program, and Iranian official have protested that the purported benefits for their economy have been slow to materialize.
Trump's tweets on the protests have drawn anger and ridicule from Iranians, who point to the inconsistency between his apparent support for them and his policy to bar them from getting U.S. visas. Iranian politicians are likely to use the president's remarks to suggest that the U.S. and Saudi Arabia, Iran's chief regional rival, are stoking unrest to weaken the Islamic Republic.
Read a QuickTake Q&A on how Iran's economic strains helped stoke protests
The protests are a rare public display of anger against a political establishment that has kept a tight grip on power since the 1979 Islamic Revolution against the pro-Western shah. The demonstrations, however, are smaller than the 2009 protests and don't pose an "existential" threat to the regime, according to Trita Parsi, head of the National Iranian American Council.
"It doesn't seem to have the organization and the leadership to really pose an existential threat to the regime, but it can really force to change the conversation and shake up the political landscape," Parsi told Bloomberg TV.
While Iran's president is elected every four years by a popular vote, his influence is kept in check by unelected officials within the judiciary and the powerful Revolutionary Guard Corps, whose job is to protect the principles of the 1979 Islamic Revolution. Ultimate authority rests with Supreme Leader Ayatollah Ali Khamenei.
President Hassan Rouhani, who was elected for a second term last year, promised voters improved living conditions after the 2015 nuclear deal. His supporters point to a drop in the inflation rate to about 10 percent from more than 40 percent under his hard-line predecessor.
Foreign investments, however, were slow to follow in the final year of the Obama administration, with investors increasingly concerned after Trump took office with threats to tear up the accord.
"If there is a kind of scapegoat to Iran's economic problems post-the nuclear deal, it would be the U.S. administration," Jean-Paul Pigat, Dubai-based head of research at Lighthouse Research, told Bloomberg TV. "Donald Trump continues to threaten to renegotiate the nuclear deal. That does not encourage foreign investors to enter the market."
— With assistance by Tracy Alloway, Hayley Warren, Kambiz Foroohar, and Nick Wadhams
(
Adds comment from administration official in fifth graf.
)
Before it's here, it's on the Bloomberg Terminal.
LEARN MORE