MiFID Shake-Up Goes Smoothly Even as Trading Volumes Dry Up
By , , and
European regulator says they haven't seen glitches so far

Investors pause after most significant rules change in decade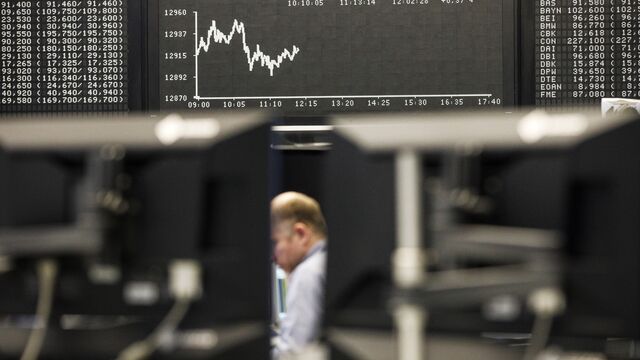 The biggest regulatory change in Europe in 10 years got off to a comparatively smooth start as the chairman of the European Securities and Markets Authority said he's seen no teething problems.
"What we can see, for our part, is no glitches so far," Steven Maijoor said in a conference call with reporters. The rules mean that "for the first time we see data of all financial instruments in the European Union."

After seven years of preparation, $2 billion in compliance costs and one false start, the finance industry was bracing for one of the most seismic regulatory shifts in history, affecting everything from research to dark pools. Regulators eased the burden on companies ahead of the start period, giving grace periods on some of the biggest issues as banks and asset managers struggled to comply in time.
Follow our TOPLive Blog on Jan. 3 as MiFID II rules take effect
Investors have been sitting on their hands with trading volumes below average, though the first week of the year tends to be quiet anyhow. Client business at one major brokerage in Europe was almost non-existent as the rules were poised to take effect Wednesday, a person with knowledge of the matter said.
Some dealers were unable to price certain interest-rate swaps on Wednesday, said Douglas Greenig, a former chief risk officer at Man Group Plc's AHL unit who now runs his own hedge fund firm Florin Court Capital LLP. The firm is "seeing lower liquidity and trading volumes across most asset classes."
Read more: How MiFID impacts everything from trade reporting to voice trading
That may continue in the coming weeks. TP ICAP Plc, the world's largest interdealer broker, expects transactions in bonds, swaps and other securities typically traded off-exchange to be lower than usual across most markets this month, according to a representative at the firm. Another brokerage told clients that it wouldn't accept swap trade orders from the last trading week in December through Jan. 3, a person with knowledge of the matter said, asking not to be named because the information isn't public.

Who Wins, Who Loses From MiFID II Shakeup?: QuickTake Scorecard
Multiple traders, who asked not to be identified as they weren't authorized to speak to the media, said that the start of MiFID II was compounding already light trading due to the holidays. Markus Ferber, the lead lawmaker on the new rules in the European Parliament in Brussels, said that low volumes aren't due to the introduction of the laws. There was "too much panic" about the new rules and "nobody is thinking about MiFID III," he said.
Read More: Is MiFID to Blame for Thin Trading, or is Everyone on Vacation
Opportunities, Challenges
The rules present banks with opportunities to grow businesses offering passive investing, research and direct trading with clients, but also leave them facing competition from research boutiques and platforms that offer low-cost trade execution.
Retail lenders may also suffer from the ban on some inducements for investment advice and portfolio management. That's because banks that distribute mutual funds to their retail clients often receive and retain a portion of the initial sales charge from the fund manager, or receive an annual fee, S&P Global Ratings analyst Giles Edwards wrote in a note Tuesday.
"Over the longer term, the disruptive nature of this major regulatory change will become more apparent, and the winners and losers will likely emerge more clearly," Edwards wrote. "There will likely be more losers than winners."
Unbundling Research
The regulator is unbundling research in an attempt to get a better deal for asset owners. That means asset managers must stop receiving analysis they haven't purchased. One investment bank, in an attempt to stem the hundreds of research emails it has traditionally received, is sending automated emails asking not to be sent analysis and seeking written confirmation that the sender will comply.
"There's going to be a lot of fund managers who have to walk over to the compliance person and say, 'look I've been sent this, or opened this envelope, what do I do?'" said Alistair Haig, who teaches financial markets at the University of Edinburgh Business School.
Plunging Prices?
The unbundling has sent pricing for analysis plunging and some providers are still cutting the cost of their offering.
"Union Investment concluded nearly all MiFID research agreements by early November but there have been several instances since in which the price for fixed income research was lowered subsequently thanks to flexibility clauses in those agreements," said Christoph Hock, head of multi-asset trading at the money manager. "All our systems are working flawlessly."
Russell Napier, co-founder of research marketplace ERIC, said the U.K. regulator should intervene if a price war for analysis begins.
Still Waiting
Despite the long buildup, not all of the 28 European Union members have converted the rules into national legislation or regulations. Valdis Dombrovskis, the EU commissioner in charge of financial-services policy, has said markets could face disruption caused by the late transposition.
Others disagree, with Michael McKee, head of financial services regulation at law firm DLA Piper, arguing it will be "more of a whimper than a bang."
"While it is one of the most important pieces of EU legislation for securities markets in years," he said, the fact some countries haven't passed the laws mean "consequently it will still be some time before these major market changes hit home."
— With assistance by Trista Kelley, Sofia Horta E Costa, Andrea Tan, Lukanyo Mnyanda, Steven Arons, and Nishant Kumar
Quotes from this Article
Before it's here, it's on the Bloomberg Terminal.
LEARN MORE