The U.S. Dollar Is Falling Again to Start the Year
By
Greenback stumbles to three-month low as commodities rise

Dollar may lose favor as other central banks normalize policy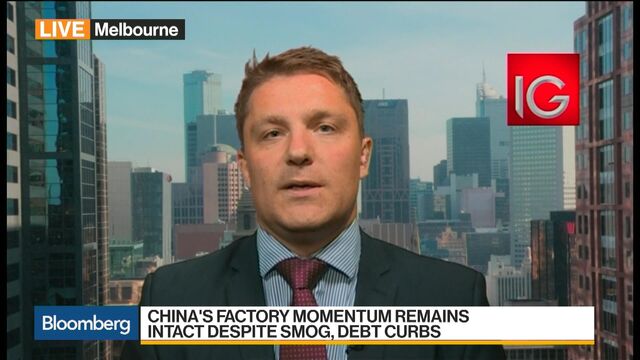 The dollar sank to a three-month low as rising commodity prices reignited bets that the global reflation trade will take hold in 2018, dimming the greenback's appeal relative to currencies of faster-growing economies.
The U.S. currency fell against most major and emerging-market counterparts Tuesday as the Bloomberg Commodity Index reached its highest level in about 11 months. Combined with reports showing strength in Chinese and European manufacturing, there is probably more pain ahead for the dollar as investors anticipate money flowing into other economies, said Mark McCormick at Toronto Dominion Bank.

"The backdrop for the dollar is just not very good," said McCormick, the bank's North American head of foreign-exchange strategy. "The global reflation trade is progressing along and the backdrop is that we're rotating into a regime shift and that comes with a changing backdrop for capital flows."
Dollar weakness will also persist through 2018 as more central banks move toward policy normalization, according to McCormick. European Central Bank policy maker Benoit Coeure suggested as much over the weekend, saying that unless inflation disappoints, there's a "reasonable chance" the central bank's extension of quantitative easing in October could be the final one. 
Options are signaling that traders have started to prep for the possibility of greenback losses. The dollar's one- and six-month risk reversals against the euro, a barometer of positioning and investor sentiment, both rose to the highest in a month in anticipation of a weaker dollar.
The greenback could catch a break as the U.S. tax-overhaul plan takes effect, said Brad Bechtel, a currency strategist at Jefferies. Though American companies' estimated $2.6 trillion of cash stashed overseas may already be mostly in dollars, the greenback will still benefit from the return of funds held in other currencies, according to Bechtel.
That said, it's far from smooth sailing for dollar bulls, especially if investors see better value in other currencies with global growth picking up. Against that backdrop, the dollar faces a cloudy outlook even as the Federal Reserve signals more rate hikes in 2018, Bechtel said.
"Commodities have been rallying across the board, and that's putting some pressure on the dollar," he said. "It's a tough road ahead for the dollar."
— With assistance by Robert Fullem
Before it's here, it's on the Bloomberg Terminal.
LEARN MORE