Trump Warns China Over Prohibited Fuel Sales to North Korea
By and
U.S. president says China caught 'RED HANDED' transferring oil

China has vowed to crack down on any violations of sanctions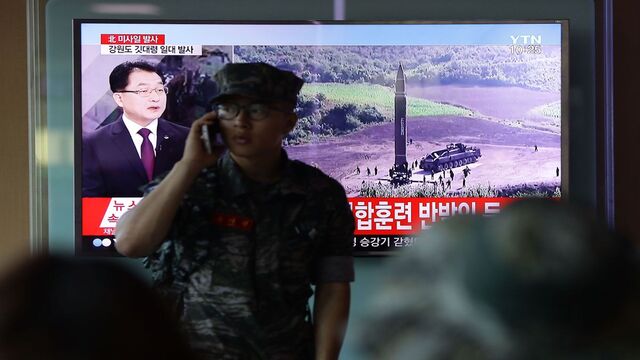 President Donald Trump warned that alleged illicit Chinese oil sales to North Korea may jeopardize a peaceful resolution to the confrontation over Kim Jong Un's nuclear weapons and missile programs.
"Caught RED HANDED - very disappointed that China is allowing oil to go into North Korea. There will never be a friendly solution to the North Korea problem if this continues to happen!" Trump said on Twitter Thursday while at his golf club in West Palm Beach, Florida.
U.S. spy satellites had observed Chinese vessels allegedly transferring oil to North Korean ships in the sea between the two countries about 30 times since October, Seoul-based newspaper Chosun Ilbo reported Dec. 26, citing unidentified South Korean government officials. Fox News, which Trump regularly watches, summarized the paper's report on Wednesday. China on Friday denied reports of oil sales to North Korea.

Speaking later to the New York Times, Trump said he had "been soft" on China regarding trade in the hope that its leaders would do more to stop North Korea's nuclear program. He called on China "to help us much more" and signaled he might otherwise take punitive trade actions.
"If they don't help us with North Korea, then I do what I've always said I want to do," Trump told the Times in an interview.
To read more about the impact of sanctions on North Korea, click here.
Trump has long been pressuring China to cut off all oil supplies to North Korea in a bid to halt Kim from gaining the ability to strike the U.S. mainland with a nuclear weapon. China, North Korea's main trading partner, has resisted any moves that could cause the regime to collapse and has called for a negotiations to resolve the conflict.
A United Nations resolution from September prohibited ship-to-ship transfers with North Korean vessels. A new round of sanctions passed this month also said North Korea is selling coal and other prohibited items "through deceptive maritime practices" and is getting fuel via ship-to-ship transfers, which are used in the petroleum industry to move liquids from one tanker to another at sea, avoiding on-shore infrastructure. 
China strictly implements UN Security Council resolutions on North Korea, Foreign Ministry spokeswoman Hua Chunying said at a briefing Friday in Beijing. She said earlier this week China would prosecute violations if solid evidence is presented, and questioned whether other countries were implementing parts of the resolution that call for a peaceful settlement to the North Korean conflict.
Chinese 'Crackdown'
"I expect before long we will see a public Chinese crackdown on several transfer ships, or the refineries that feed them," Bill Brown, an adjunct professor at Georgetown University's School of Foreign Service, said by email. "The main story is that China is publicly drawing a very tough line on North Korea."
The U.S. in September sought to persuade the UN Security Council to pass a resolution banning oil exports to North Korea. That provision was dropped in the final document, which established limits on exports of petroleum products such as diesel and kerosene, but didn't cut off crude sales.
Last week, the Security Council approved tighter sanctions on North Korea, including measures aimed at slashing deliveries of petroleum products to the equivalent of 500,000 barrels per year starting Jan. 1. North Korea on Sunday described the UN move as an "act of war" and vowed to take revenge on the U.S. and other Security Council members.
Deeper Cuts
The latest sanctions constitute a deeper cut than the September resolution, which demanded imports be lowered to the equivalent of 2 million barrels from 4.5 million. It also limits crude imports at current levels of about 4 million barrels annually, which the U.S. has said China provides via the Dandong-Sinuiju pipeline.
The U.S. Treasury Department last month accused North Korea of employing such methods and identified North Korea's Korea Kumbyol Trading Co. as a firm that has attempted ship-to-ship transfers, possibly of oil.
In addition to the Chosun Ilbo report, Japan's Yomiuri newspaper this week reported North Korea has been utilizing these methods more frequently, using boats from nations including China, citing U.S., Japanese and South Korean officials it didn't name.
To help stop the practice, the UN measure says that countries can seize, inspect, or impound any vessel in their ports if there are grounds to believe the ship is being used to transport banned items.
Vessel Seized
South Korea on Friday disclosed that it seized the Hong Kong-flagged vessel Lighthouse Winmore, accusing it of transferring refined oil products to North Korea in October. The incident will be reported to the UN Security Council, according to a South Korean foreign ministry official. Local media reported the incident earlier on Friday.
The vessel loaded oil products from Japan on Oct. 11 in South Korea's southern port of Yeosu, according to Yonhap News, citing government officials it didn't identify. It then transferred 600 tons to a North Korean vessel, Sam Jong 2, on Oct. 19. The ship's transponder didn't signal a location between Oct. 15 and Oct. 25, according to Bloomberg data.
An official with Hong Kong government's Transport and Housing Bureau said they're aware of the report but have no further information on it. A call to a number for Hong Kong-based Win More Shipping Ltd., which is listed as the owner of the Lighthouse Winmore, went unanswered. Taiwanese company Billions Bunker Group, which Yonhap News reported had charted the vessel, could not be reached for comment.
— With assistance by Stephen Stapczynski, Justina Lee, Ting Shi, Jing Yang De Morel, and Yuan Gao
Before it's here, it's on the Bloomberg Terminal.
LEARN MORE