politics
South Sudan Fighting Leaves at Least 20 Dead After Cease-Fire
By
Warring parties accuse each other of cease-fire violations

Army, rebels agreed to stop hostilities from midnight Dec. 24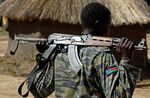 Almost two dozen government troops were killed in South Sudan during fighting, just a day after a cease-fire agreement came into effect, according to the main rebel group.
The nation's army and rebels last week agreed to cease hostilities from midnight Dec. 24, in a bid to end three years of violence that's claimed tens of thousands of lives and forced 4 million people from their homes in the nation that only got independence in 2011.
"The government continued with aggression," the rebel group's deputy spokesman, Lam Paul Gabriel, said on his Facebook page on Dec. 26. "Our forces repulsed the attackers and pursued them to their base in Kansuk, where more than 20 of them lost their lives and several injured."
The rebel group led by former vice president Riek Machar violated a cease-fire agreement signed on Dec. 21 in neighboring Ethiopia and was seeking to gain more territory to boost its bargaining power at new peace talks, army spokesman Lul Ruai Koang said.
"They have been trying to capture strategic locations before IGAD and CTSAMM come and do verification on positions," Koang said, referring to groups monitoring the cease-fire. "They have intention of more territorial gains."
Both sides blamed each other of planning more attacks for the final days of 2017. Another peace deal shattered in July 2016 when a transitional government in which rebel-group leader Riek Machar deputized President Salva Kiir fell apart after the parties started fighting in the capital, Juba. Talks re-initiated this month included several other armed groups that sprouted after last year's violence.
Before it's here, it's on the Bloomberg Terminal.
LEARN MORE