Prosecutors Push for Samsung Heir to Get 12-Year Sentence
By
Lee already appealing five-year term on bribery conviction

49-year-old Lee has consistently denied legal wrongdoing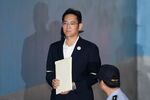 Prosecutors asked a South Korean court to extend the prison term for Samsung Electronics heir-apparent Jay Y. Lee to 12 years, in an appeal of his five-year sentence for allegedly bribing his way to greater control of the country's biggest company.
Lee, 49, is the highest-profile business figure to be embroiled in an influence-peddling scandal that led to the ouster of President Park Geun-hye this year. In August, a Seoul court convicted the Samsung Electronics vice chairman of giving Park's friend thoroughbred horses in the hope it would help secure government support for his ascension to the top of the company.
Prosecutors originally sought 12 years for Lee in August, saying such a sentence would help "establish the rule of law" in a country where ties between government and business have come under renewed scrutiny since the scandal emerged last year. Lee is also appealing the original sentence and has denied any legal wrongdoing, saying he never sought to unseat his hospitalized father as Samsung Electronics chairman in the first place.
"Lee's control and wealth at Samsung is none other than a result of bribery," said special prosecutor Park Young-soo as he demanded the prison term. "People want chaebol to no longer maintain the privileges to rule over the Republic of Korea alongside politicians."
The original six-month long trial centered on a 2015 merger between two Samsung affiliates that gave Lee fresh shares in Samsung C&T Corp, a major shareholder in Samsung Electronics. Prosecutors allege Lee knew about the secret relationship between Park and her friend and used the knowledge to ensure the deal passed so he would tighten his grip on Samsung Electronics without having to pay billions of dollars in inheritance taxes.
From Jail to Retirement, Samsung Loses Top Execs: QuickTake Q&A
Despite opposition from investor Paul Elliott Singer, the deal was approved after it got backing from the government-run National Pension Service, a major shareholder. Moon Hyung-pyo, then chairman of the service, has been sentenced to two and a half years in jail for putting pressure on the pension fund to support the merger. 
Park, who was removed from power in March and stands trial separately for charges of corruption and abuse of power, has denied seeking bribes for herself or her friend. Choi has also denied charges.
In the Korean judicial system, prosecutors demand a sentence before a ruling. A panel of three judges will decide the matter; no jury has been involved in the case.
A ruling on the appeal will come Feb. 5, Yonhap news agency reported.
Before it's here, it's on the Bloomberg Terminal.
LEARN MORE