Libya's Oil Output Drops, Pipeline Work to Last a Week
By
Explosion damaged pipeline carrying crude to Es Sider terminal

Libyan disruption comes as North Sea oil pipeline outage eases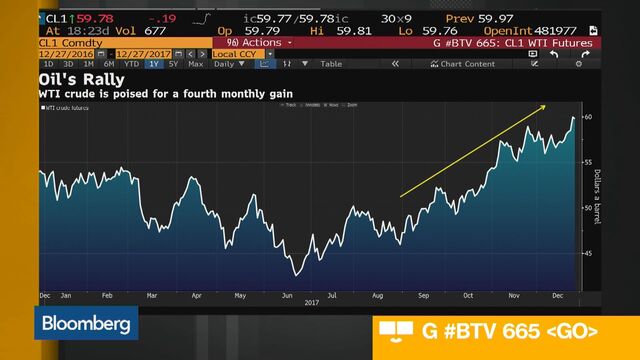 Libyan crude production fell below 1 million barrels a day as the country's crucial energy infrastructure was once again targeted by violence.
The disruption in the North African nation lifted oil prices to a two-year high on Tuesday, offsetting the impact from the return of a major U.K. North Sea pipeline from a shutdown. The halt keeps output below the cap Libya agreed last month with the Organization of Petroleum Exporting Countries and allies including Russia.
The OPEC member's production dropped to 950,000 barrels a day on Wednesday, a person directly involved in the matter said. Production was 1.08 million barrels a day as of Dec. 18, indicating a drop of 12 percent. The pipeline will need about a week for repairs, two other people familiar with the situation said. All three people asked not to be identified because they're not authorized to speak to the media.

The pipeline carries crude to Es Sider, Libya's biggest export terminal. Loadings at the port are down about 50 percent, one of the people said. Es Sider was scheduled to ship 13 cargoes this month, each carrying 600,000 barrels of crude, according to a loading plan obtained by Bloomberg.
Several meters of the pipeline were damaged, puncturing it with two holes, and emergency staff is on site, one of the people said. Operator Waha Oil Co. called the explosion a "sabotage act," and is ready to move to the site after getting clearance from security, according to a statement Wednesday on its website. The blast occurred 130 kilometers (81 miles) south of Es Sider, the state-run National Oil Corp. said Tuesday.
Brent crude, a global benchmark, dropped 0.9 percent in London after gaining 2.7 percent to the highest since May 2015 on Tuesday following the Libyan disruption.
Libya boosted production to above 1 million barrels a day in July for the first time since 2013, according to data compiled by Bloomberg. The country has struggled to maintain that level of output following stoppages at ports and pipelines. Production dropped to 890,000 barrels a day in August.
Before it's here, it's on the Bloomberg Terminal.
LEARN MORE