markets
Flattening U.S. Yield Curve Nears Decade Lows in Final 2017 Push
By and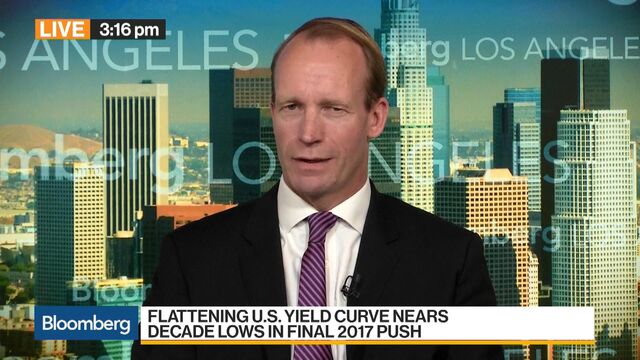 The U.S. yield curve is getting one final flattening push before calling it a year.
The spread between the yields on 2-year and 10-year Treasuries narrowed to just 50.6 basis points Wednesday, close to the decade low reached on Dec. 6. While a small part of the more than six-basis-point narrowing is a function of the market shifting to a new benchmark 2-year note, the move is nonetheless one of the biggest single-session shifts of 2017. The gap between 5-year and 30-year yields also contracted as long bonds staged their biggest advance since September.

The culprits behind this final flattening push appear to be money managers who need to tidy up their portfolios before 2017 finishes, with month-end duration extensions and quarter-end rebalancing both supportive of long-end Treasury buying.
The duration on the Bloomberg Barclays U.S. Treasury Index will increase by 0.07 years next month, marginally higher than average for January, and fixed-income investors that track such benchmarks will likely follow suit by buying longer maturities.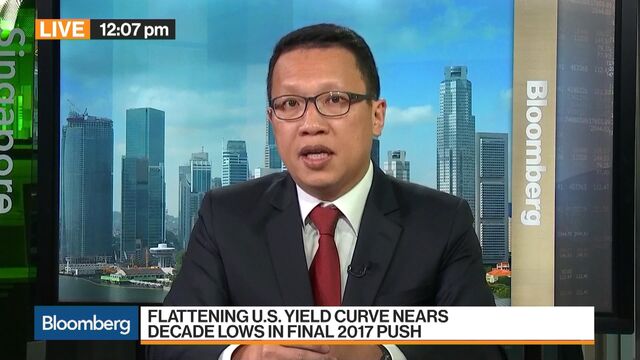 For investors who want a mix of stocks and bonds, this quarter's combination of a 6.5 percent rally in the S&P 500 Index and a slight decline for Treasuries means that equities now make up a greater share of their portfolio and some adjustment toward fixed income may be necessary.
Add to all this the fact that the week is shortened by Monday's Christmas holiday and a slightly earlier than normal close recommended on Friday, and it's little wonder that the market's seen a bump in activity. That's evident in bond futures volumes, which were 10 percent bigger than their 10-day average between 5 a.m. and 2 p.m. New York time.
Before it's here, it's on the Bloomberg Terminal.
LEARN MORE