business
Japan Inflation Picks Up in November But Still Below Target
By
Unemployment rate falls to 2.7 percent, lowest since 1993

Household spending rises more-than-expected 1.7 percent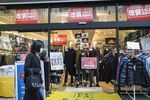 Japanese inflation unexpectedly picked up in November but prices are still rising at less than half the rate targeted by the central bank. The tightest job market in decades got even tighter.
Highlights of the Data
Core consumer prices, which exclude fresh food, increased 0.9 percent in November from a year earlier (estimate 0.8 percent).
The unemployment rate fell to 2.7 percent (estimate 2.8 percent), the lowest since 1993.
Household spending increased 1.7 percent from a year ago (estimate 0.5 percent).
The job-to-applicant ratio rose to 1.56 (estimate 1.56), the highest since the mid-1970s.
Key Takeaways
Nearly five years since Prime Minister Shinzo Abe returned to power promising to end Japan's deflationary malaise, the economy is registering healthy growth but inflation remains well below the Bank of Japan's 2 percent target. Energy prices have driven most of the gains in inflation as the tightest labor market in decades hasn't fueled a strong rise in wages, meaning households have limited their spending. Given these conditions, the Bank of Japan left the settings on its unprecedented monetary stimulus program unchanged last week in its final meeting of 2017.

Economists views
"Conditions are better than they were in deflation, but inflation hasn't even reached 1 percent," said Masaki Kuwahara, senior economist at Nomura Securities Co., noting that prices excluding energy and fresh food rose only 0.3 percent. "The BOJ will maintain the status quo because inflation is still far away from 2 percent."
"On household spending, there were comments saying that August and September had bad numbers due to the amount of rain over the weekends, and that analysis appears to have been right," said Yasutoshi Nagai, chief economist at Daiwa Securities Co. "We can expect a continuation of gradual improvement in spending."
"I don't know how low unemployment numbers may go, but I believe there's still room to go lower, and it's possible that the labor market will become tighter," Nagai said.
Bloomberg Economics
The slew of data showed that Japan's economy was running on the hot side heading into the year-end, Bloomberg Economics' Yuki Masujima said.

Household spending rose more than expected, responding to a sixth straight month of rising disposal income. But looking ahead, higher prices of fresh food and oil spell headwinds for consumption.

Inflation remained the weak spot. Even so, early signals suggest core inflation may tick up to 1% in December -- halfway to the Bank of Japan's target.

Click here

to read the full report
Other Details
Overall, nationwide prices rose 0.6 percent in November (estimate 0.5 percent).
Excluding fresh food and energy, prices gained 0.3 percent (estimate 0.3 percent).
Prices excluding fresh food in Tokyo rose 0.8 percent in December (estimate 0.7 percent).

(Source: Bloomberg)
— With assistance by Connor Cislo, and Yoshiaki Nohara
Before it's here, it's on the Bloomberg Terminal.
LEARN MORE