politics
Trump's Wish for Peace Follows a Weekend of Twitter Needling
By
President and first lady check in with kids monitoring Santa

Weekend's targets include FBI official, 'fake polls,' CNN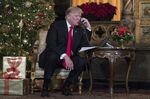 President Donald Trump's Christmas wishes include a peaceful America, he said while taking phone calls from children tracking the global travels of Santa's sleigh -- although the president's social-media activities suggested otherwise.
"I think we want peace. What do you think? Peace for the country," Trump told a young boy. "We've got prosperity. Now we want peace," the president said taking children's calls from the gilded and tiled living room of Mar-a-Lago, his Palm Beach, Florida, club and home.
The boy had told the president that his Christmas wish was for his sick grandmother to return home from the hospital. "That's better than asking for some toy or something, right?" Trump responded, before sharing his own ambitious wish.
The president and first lady Melania Trump spent some time Sunday answering calls from kids to the Santa Tracker run by the North American Aerospace Defense Command, or NORAD, following a Christmas Eve tradition of other recent first couples.
The president made classically big, Trumpian promises to the kids, telling one "you'll wake up and have the greatest gifts." To another, Trump said: "I'll make sure that Santa is going to treat you well. Really well. The best he's ever treated you."
Earlier, the president held a teleconference with members of the U.S. military stationed in Kuwait, Qatar, the Strait of Hormuz, and Guantanamo Bay, Cuba. He also played golf at his course in West Palm Beach, White House officials confirmed.
Trump, 71, who has nine grandchildren of his own, took on a jovial tone, telling one child that he too liked playing with building blocks -- perhaps a reference to his career as a real estate developer. Trump's public voice, via Twitter, has been more antagonistic this holiday weekend.
Trump posted several tweets critical of Deputy FBI Director Andrew McCabe, who reportedly plans to retire in early 2018 after being embroiled in controversies including his wife's receipt of campaign contributions from Virginia's Democratic Governor Terry McAuliffe, a longtime ally of Bill and Hillary Clinton.
He also tweeted criticisms Sunday of the "Fake News," not long after wishing journalists covering him this weekend "a great holiday and a great Christmas."
The president raised eyebrows by retweeting an image posted by Twitter user "oregon4TRUMP." The photograph depicts Trump in a limousine with what appears to be a squashed bug carrying the CNN logo on the sole of his shoe.
In September, Trump retweeted, and later deleted, a cartoon depicting a "Trump train" locomotive running over a CNN reporter. And in July, Trump tweeted a video of himself during which he wrestles a man in a suit whose face has been replaced by a CNN logo.
Before it's here, it's on the Bloomberg Terminal.
LEARN MORE