Peru's President Survives Impeachment Bid, Government Limps On
By and
Lawmaker votes fell shy of toppling the embattled president

Government likely to be politically weaker following crisis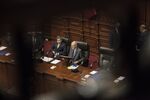 Peruvian President Pedro Pablo Kuczynski survived a pell-mell impeachment effort over allegations that he lied about dealings with Brazilian construction company Odebrecht SA, which is at the center of the biggest corruption scandal in Latin America's history.
After a Thursday congressional session that lasted more than 13 hours, lawmakers in the opposition-dominated chamber fell short of the two-thirds majority needed to declare the Wall Street veteran and former finance minister "morally incapable." The president's escape was narrow: 78 lawmakers voted for his impeachment, 19 against, and 21 abstained.
"Tomorrow, a new chapter in our history starts," Kuczynski said in a tweet after the vote. "Reconciliation and reconstruction of our country: One strength. One Peru."
The impeachment drive, which took less than a week from beginning to end, reinforced the perception that Peru's politics are chaotic and unpredictable. That the opposition came so close to unseating a president in such a short period of time demonstrates the potency of the probe known as Operation Carwash, its Brazilian code name. Attention will now turn to how the 79-year-old Kuczynski will reorganize his government while fending off any renewed efforts to undermine his presidency that's slated to last until 2021.
"We need to learn the political lesson from this," said Vicente Zeballos, a lawmaker with the ruling Peruvians for Change party. He added that the president needs to make changes to his cabinet. "There needs to be a shake-up that raises consensus -- a broad-based cabinet."
Yet Kuczynski has lost significant political capital, and will struggle to recover it, Eurasia Group analyst Maria Luisa Puig said before the vote. "A weak president and corruption allegations will hinder his government's efforts to boost growth," she said.
The political turbulence hit Peru just as the economy recovered from the freezing of civil-works projects amid the Odebrecht investigation, and destructive flooding in the country's north. The government's efforts to revive growth are focused precisely on attracting the sort of infrastructure investment that engendered the scandal.
Peru will grow 4 percent next year, faster than Colombia, Chile, Brazil and Mexico, according to analysts surveyed by Bloomberg. This year it's forecast to expand 2.6 percent. The nation's economy and fiscal position merit a higher credit rating than its current A3 grade, but weak institutions hold it back, Moody's Investors Service analyst Jaime Reusche said Tuesday.
The sol strengthened the most among the world's 31 most-traded currencies on Friday, recovering part of scandal-related losses. It gained 0.6 percent to 3.244 per dollar in the beginning of the trading session, after weakening to 3.3 per dollar a weak earlier.

Every living president in the country is either in jail, on the run or under investigation. And many of Peru's current mainstream political leaders have been tainted by the continent-wide bribery scandal. By Odebrecht's admission, it doled out hundreds of millions of dollars in bribes in Brazil and 11 other countries to secure contracts. The builder has signed leniency deals with a handful of nations to settle the cases and prosecutors across Latin America are investigating. 
Odebrecht disclosed payments to Westfield Capital Ltd., owned by Kuczynski, of close to $800,000 between 2004 to 2007 for advice on projects that Peru awarded to the construction firm. Popular Force began calling for Kuczynski's immediate resignation just hours after lawmakers made the payments to Westfield public. If successful, it would have been the second impeachment of a South American president in less than two years after Brazil's Dilma Rousseff was removed from office in mid-2016.
Kuczynski told lawmakers he never received a bribe or had any conflict of interests while in office, though he was careless and sloppy with his business records. He said he had no knowledge of the company's dealings at the time, because an associate was managing the firm. As sole shareholder of Westfield, he later received a dividend and thus "earned some money" from the Odebrecht deal, he said. But he denied granting any favors to the Brazilian company when he was finance minister.
Opposition Drive
"Not impeaching isn't the same as not investigating,'' Kuczynski's lawyer said. "There should be an investigation'' and the president will cooperate.
Popular Force, which controls 71 of 130 seats in Congress, is also seeking to oust the attorney general and to remove justices from Peru's highest court. Kuczynski still isn't out of danger, according to Puig, since there's nothing to stop the opposition from presenting a second motion to impeach him. Polls show the party's leader, Keiko Fujimori, the daughter of a former president, is Peru's most popular political figure.
Still, Fujimori herself is under investigation in the Carwash case and the defeat late Thursday will slow the opposition's momentum.
"This is a huge defeat for Fujimorismo. They went for broke and lost," Jo-Marie Burt, a senior fellow at the Washington Office on Latin America, said after the vote. The Andean nation is at a point of "seemingly total ungovernability," she said.
Second Vice President Mercedes Araoz, who was in the line of succession had Kuczynski lost the vote, told reporters that the administration would make common cause with opponents and continue trying to right the nation.
"There's not going to be any arrogance," she said. "There's always going to be openness to dialogue. We don't want to get involved in any processes that would be painful for the country."
— With assistance by Ben Bartenstein
Before it's here, it's on the Bloomberg Terminal.
LEARN MORE