Lotte Verdicts May Open New Front in Brothers' Feud for Control
By
Shin Dong-bin convicted; older brother Shin Dong-joo acquitted

Shin Dong-joo has previously tried to retake control of group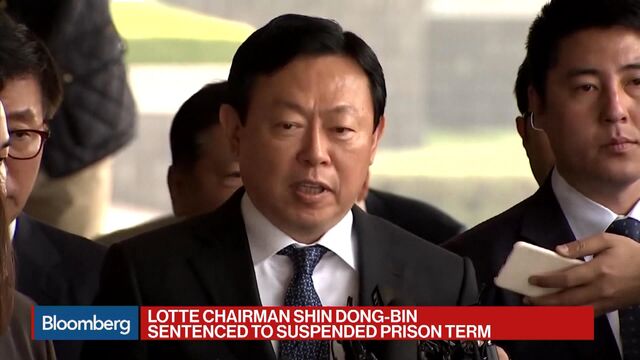 A South Korean court found Lotte Group Chairman Shin Dong-bin guilty of embezzlement and breach of fiduciary duty, while acquitting his rival and older brother, opening the door for renewed infighting over control of South Korea's fifth-largest conglomerate.
While Shin Dong-bin, who was handed a suspended prison sentence Friday, plans to remain as chairman of the South Korean conglomerate's flagship Lotte Group, prosecutors are still seeking a four-year sentence in a separate bribery trial due Jan. 26. Also, the chairman's conviction could lead to his ouster under Japanese law as head of the company's Tokyo-based unit Lotte Holdings Co., where elder sibling Shin Dong-joo owns 33.3 percent of voting rights.
The verdicts create an opportunity for Shin Dong-joo to persuade Lotte Holdings shareholders to remove the slate of directors that dismissed him in July 2015, which would strengthen any effort to retake control of the group. Lotte Holdings is key because it owns 99 percent of Hotel Lotte, which the group has planned to take public, and a pivotal stake in Lotte Chemical Corp., a cash cow for the conglomerate.
"It depends on Shin Dong-joo, who was found not guilty, whether the battle over the management rights will be reignited or not," Chung Sun-sup, chief executive officer at corporate research firm Chaebul.com. "As Shin Dong-bin was convicted, his fate depends on the shareholders of Lotte Holdings in Tokyo. In Japan, one who is convicted needs to step down from a director post."
Shin Dong-bin has been expanding the retail-to-chemical giant as chairman since 2011 and had mounted an effort to invest billions of dollars outside South Korea. That attempt was pushed aside, first by a feud with his older brother and father over control of the company and then by the bribery investigation. The group had assets of about 111 trillion won as of this year, from about 77 trillion won in 2011.
Turmoil erupted at Lotte in 2015, when a family fracas spilled into public view after the chairman's older brother led a failed boardroom coup. Since then, Lotte has faced intensifying regulatory scrutiny and investigations, which took a toll on the group's business. The conglomerate canceled a potential $4.5 billion initial public offering of a unit and withdrew a bid for chemicals-maker Axiall Corp. last year.

The convictions and sentencing of executives at the retail, hotels and chemicals conglomerate are among a series of penalties the government has delivered following sweeping probes of the country's largest family-controlled business groups, known as chaebol. Founder Shin Kyuk-ho, 95, was sentenced to four years in prison for his role in corruption at the company, a ruling he plans to appeal, his lawyer Cho Moon-hyun said by phone Friday.
The punishments also underscore the resolve of President Moon Jae-in, who took power after a corruption scandal felled his predecessor, to show less leniency toward crimes committed by owners of family-run conglomerates.
Shin Dong-bin hasn't decided whether to appeal the conviction, a Lotte Group spokesman said Friday. A representative for Shin Dong-joo said he will keep monitoring the situation.
Before it's here, it's on the Bloomberg Terminal.
LEARN MORE