Business
H&M Misses Out on Holiday Cheer
The former fast-fashion king is suffering as Zara and Primark thrive
By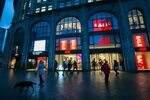 While retailers across the U.S. and much of Europe celebrate their best holiday season in years, fast-fashion pioneer H&M isn't sharing in the good cheer. With rivals such as Zara and Primark luring shoppers away, the Stockholm-based chain on Dec. 15 reported its biggest quarterly sales drop in at least a decade. Stock in the company, Hennes & Mauritz AB, has plunged nearly 15 percent since the announcement, wiping out almost $6 billion in market value.
The debacle prompted a rare mea culpa from the family-run group. "We have made mistakes," Chief Executive Officer Karl-Johan Persson, 42, a grandson of H&M's founder, told Swedish news agency Direkt. H&M will "work incredibly hard to turn this around" by closing underperforming outlets and revamping many of those that remain.

H&M's problems, though, run deep—from outdated stores and underpowered digital offerings to a balky logistics system that can't get fresh styles to customers quickly enough. Fourth quarter sales slumped 2 percent year-on-year, and 2017 growth was just 3 percent, versus the company's target of 10 percent to 15 percent.
Fickle shoppers are defecting because H&M's stores and website lag behind those of competitors, according to Marguerite Le Rolland, an analyst at research group Euromonitor in London. "The experience of buying, that's where H&M is facing challenges," Le Rolland says.
As the stock has tumbled, Chairman Stefan Persson—the CEO's father—has been buying. From Dec. 15 to 19, he purchased about 1.2 percent of H&M's total shares, spending 3.42 billion kronor ($407 million) and bringing his family's stake to 41.7 percent.

Founded in 1947, H&M burst onto the global scene in the 1990s, virtually creating the business of selling trendy, inexpensive clothes that are quickly designed, manufactured, and delivered to stores. By working with celebrity designers and top models and plastering cities worldwide with  billboards featuring its colorful wares, it grew into the world's No. 1 fashion retailer—a title it held as recently as 2012. But it has since been outpaced by Inditex SA, the parent of Zara, which manufactures more than half of its goods in Europe, allowing it to restock stores more rapidly than H&M, which relies mainly on Asian suppliers.
Zara "is more sophisticated, the quality is better, and they sell things that no one else has," said Magda Odwrot, a 21-year-old bartender shopping at the Westfield Stratford mall in London, where H&M has its biggest U.K. store. "It's worth the extra money over H&M."

At the other end, H&M has been squeezed by discounters such as Primark, where prices on comparable items are about one-third lower than H&M, Société Générale estimates. And online, it's losing ground to nimbler fashion e-tailers such as Asos Plc, Zalando, and Boohoo.com, which enjoy a strong following among the young shoppers who have long been H&M's core customers.
Henrik Didner, chairman of investment manager Didner & Gerge Fonder AB, H&M's 10th-biggest shareholder, said it could be time for the Persson family to relinquish control. "A new management may be needed, which isn't burdened by old decisions," Didner told the newspaper Dagens Industri on Dec. 18, an unusual public rebuke to Sweden's third-largest company by revenue.
To encourage shoppers to linger in its stores, H&M is adding features such as cafés while reworking the product lineup to place more emphasis on the latest fashions rather than basics such as socks and T-shirts. That means a bigger share of inventory will have to move quickly from design to production and into stores, according to investor relations chief Nils Vinge.
"We're doing that with technology, connecting the designers in Stockholm with suppliers in Asia, cutting the lead-time considerably," Vinge said. H&M understands that it needs "to make the physical shopping experience more exciting."
While fewer people are visiting H&M stores, more are shopping on its website. To boost online sales, especially in China, it's expanding a cooperation agreement with Alibaba Group Holding Ltd.'s Tmall. And some of H&M's newer brands such as chic, minimalist COS and Scandinavian-Japanese fusion Monki, are "developing well," the company said in a statement on Dec. 15.

Yet brick-and-mortar outlets still account for 90 percent of revenue, and rising online traffic appears to reflect "cannibalization of traditional store sales," analyst Magnus Raman of Handelsbanken Capital Markets wrote in a recent report. Moreover, Raman said, H&M has lagged rivals in e-commerce investment.
H&M's website "is pretty bad," said Lenette Larsen, a 21-year-old Norwegian student. "You can't narrow your search in enough ways, so you have to look through loads of things to find what you want."
H&M says it will beef up its online capabilities and slow brick-and-mortar expansion, though the number of outlets will continue to grow. And it will use data gleaned from its website to tailor store offerings to local tastes, Vinge said. "We're not there yet, but we're going as fast as possible," he said.
The company has said it will brief investors on Feb. 14 about what it describes as its "ongoing transformation journey." That journey could be long. "The payoff from growth initiatives is yet to be seen," Martin Arnell, analyst at DNB Markets in Stockholm, wrote in a note to clients. "Turnaround seems distant."
— With assistance by Sam Chambers, Niclas Rolander, and Hanna Hoikkala
Before it's here, it's on the Bloomberg Terminal.
LEARN MORE