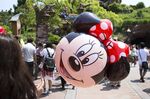 Walt Disney Co. truly is a magical place. It's managing to buy some $52 billion of assets without technically spending a dime. The how and why make it even more interesting.
Last week, the Murdoch family agreed to sell certain of their 21st Century Fox Inc. TV and film businesses to Disney in return for shares in the entertainment conglomerate. No cash is changing hands. In fact, Disney stands out as the only U.S. acquirer this year to not take advantage of cheap borrowing rates -- or rather not need to -- for a deal over $20 billion. 
For the last few years, the M&A market has been punctuated by colossal, highly leveraged mergers, such as AT&T Inc.'s pending takeover of Time Warner Inc. and CVS Health Corp.'s recent offer for Aetna Inc. Both are made possible by low-cost debt and investors' renewed comfort with stretching balance sheets in the name of growth. That Disney -- in the face of ratings pressure and much industry uncertainty -- can still fully rely on its stock for currency for a deal this magnitude is a testament to the faith shareholders have in CEO Bob Iger and his team. 
To offset the dilution to Disney shareholders, the company does plan to repurchase $10 billion worth of stock "between now and shortly after the transaction closes," plus up to an additional $10 billion within two years post-closing. So in that sense, it's spending some money, but buybacks are the normal course of business at Disney. It spent $9.4 billion on share repurchases in its fiscal year that ended in September. Management also estimates an eventual $2 billion in cost savings from buying the Fox assets. 
But why not just borrow the money? When rates are as low as they are, cash certainly makes the numbers in big mergers look prettier at first. As it stands now, Disney's total debt is only 1.5 times adjusted trailing 12-month Ebitda, while all its peers carry higher ratios. With the Fox deal and assuming it then buys the rest of Sky, leverage would expand to about 2.9 times. To put that in perspective, CVS cites an adjusted debt-to-Ebitda ratio of 4.6 should its acquisition of health-insurer Aetna get done. 
Disney's decision to conserve its balance sheet may have as much to do with its brawn as its own insecurities about the future of media. Its sheer scale insulates the company better than its rivals. Still, prime-time cable ratings for viewers ages 18 to 49 are down about 8 percent at Disney this year through November, according to Nielsen. 
Todd Klein, a partner at Washington-based venture capital firm Revolution, put it best. "What can kill really good media companies are bad balance sheets," said Klein, who specializes in media and technology businesses. "No one knows how fast cord-cutting will continue to happen, so you don't want to be stuck with a broken balance sheet when you might need a strong balance sheet the most. And if you have the strength in your share price and the confidence of your shareholder base, there's a lot of sense to this."
Seeing the success Netflix Inc. has had in stealing cable subscribers, Iger is taking the plunge into the streaming world. In 2018, Disney will launch two streaming offerings, plus the Fox deal will give it majority ownership of Hulu, which opens a lot of doors. These latest moves by Iger have been by far the riskiest he's made in his tenure -- they're also necessary. Media networks supplied nearly half of Disney's $14.8 billion of operating profit this year.
Netflix may have won the battle, but its strategy is dependent on being able to easily access the debt markets. Disney's doesn't, and it's building up its arsenal. 
Before it's here, it's on the Bloomberg Terminal.
LEARN MORE