Boeing Seeking Deal With Brazilian Aerospace Titan
By and
Options are said to include a partnership to market planes

Talks follow European planemaker's deal with Bombardier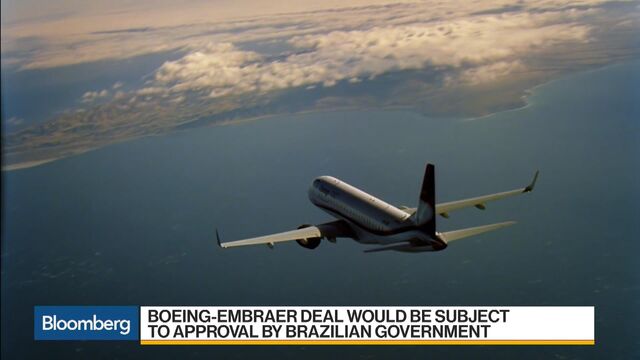 Boeing Co. is weighing a potential combination with Brazil's Embraer SA, setting the stage for a blockbuster deal that would fuel the U.S. aerospace giant's rivalry with Airbus SE in the highly competitive market for smaller jets.
The planemakers have been exploring a takeover for more than a year, with senior-level talks that gained urgency in recent months as Airbus struck a joint venture with Bombardier Inc., said a person familiar with the discussions. The negotiations are ongoing and expected to continue after the companies return from a year-end break, said the person, who asked not to be identified because the matter is private.
Boeing's potential Embraer deal raises the prospect of a duopoly with Airbus that would extend into the market for smaller planes, where manufacturers in Canada, Russia, Japan and China are emerging as competitive threats. Airbus secured its role two months ago by agreeing to take control of Bombardier Inc.'s C Series program -- the target of a trade complaint by Boeing.
"That space is just not big enough, in my view, to support more than two OEMs," said John Plueger, chief executive officer of Air Lease Corp., referring to original equipment manufacturers.

Embraer climbed 2.2 percent to 20.64 reais at 5:06 p.m. in Sao Paulo, a day after surging 23 percent for the biggest gain since 1999. Boeing fell less than 1 percent to $294.37 at 2:05 p.m. in New York. The Chicago-based company's 90 percent advance this year through Thursday is the biggest on the Dow Jones Industrial Average.
'Under Discussion'
The deal being contemplated would preserve Embraer's brand and jobs in Brazil, said the person. While the issue of control of the national champion remains tremendously sensitive, Boeing has stressed the prospect of growth that Embraer might not achieve on its own.
The U.S. planemaker has a global marketing network, and as the second-largest defense company could provide better access to the U.S. government for Embraer military aircraft such as the Super Tucano light attack aircraft and KC-390 military transport.
The manufacturers provided few details publicly beyond saying that the structure of the tie-up "remains under discussion," and would require approval by the Brazilian government, regulators and Embraer shareholders.
"As we noted, discussions are ongoing, but we have always had deep respect for the role of the Government of Brazil, as well as their important defense and security concerns," Boeing said in a statement.
An outright acquisition would be Boeing's largest since it bought U.S. rival McDonnell Douglas Corp. in 1997, and would advance a consolidation wave sweeping through the aerospace sector.
Bloomberg Intelligence: Deal would blunt Airbus's C Series gain
While Boeing has focused on "bolt-on" deals since then, Chief Executive Officer Dennis Muilenburg and chief strategist Greg Smith signaled a willingness to consider bolder strategic moves this year when they promoted Kent Fisher, a rising star, to head the team that handles large mergers and strategic partnerships.
But a takeover would mark a shift away from the company's emphasis on handing cash back to shareholders through dividends and stock buybacks, a key driver of this year's stock surge. It would also be likely to spark political opposition -- and Brazil holds a "golden share" in Embraer that gives it veto power over an acquisition.
Presidential Power
Brazilian President Michel Temer said control of Embraer isn't negotiable, adding that talks on the deal hadn't officially been presented to him yet.
"All partnerships are welcome, what is not under consideration is transferring Embraer's control to another company," he told journalists Friday in Brasilia. "That is exactly what the golden share is for, for the government to make that decision."
Given those pronouncements, analysts have suggested the two companies will eventually hammer out a partnership rather than risk government conflict with an outright acquisition.
"National pride is an important consideration here that could define the structure of these arrangements," Robert Spingarn, an aerospace analyst at Credit Suisse Group AG, said in a note to clients Thursday. "Accordingly, we think JVs could be preferable in certain circumstances over outright mergers."
Read more: Embraer faces 'messy' path to a Boeing deal
For years, Boeing and Airbus have focused on larger, more profitable jetliners and shifted away from planes with 100 seats or less, which have similar development costs while selling for commodity-like prices. Airbus's deal with Bombardier, and Boeing's talks with Embraer, signal that the big planemakers intend to deny a foothold to newcomers such as Russia's Sukhoi.
A closer relationship with Embraer would also offer benefits to Boeing beyond having a product to compete with an Airbus-backed C Series, JPMorgan Chase & Co.'s Carlos Louro and Seth Seifman said in a report.
One is the chance to develop low-cost manufacturing capability, since Boeing makes all its planes in the U.S, they said. Another is to benefit from the same supply-chain efficiencies that Airbus and Bombardier are planning. A third is the opportunity to limit potential cooperation between Embraer and China's Comac, an emerging rival.
Created in 1969 by the Brazilian government and privatized in 1994, Embraer has been held up as a source of national pride and an example of efficiency and innovation in a commodities-driven country, though corruption scandals in the past few years have tainted that image.
Airbus Competition
The Sao Jose dos Campos-based company has enjoyed a collegial relationship with Boeing over the years. The news of Airbus's C Series venture fanned speculation that the two might draw closer to ward off the competitive threat. Boeing is also Embraer's commercial and maintenance partner for the KC-390, a military cargo plane still being developed.
The landscape for commercial aerospace –- and Embraer's upgraded E2 jets -- changed when Bombardier shocked the industry by handing over the C Series to Airbus at no cost after pouring $6 billion into the narrow-body program.
"I'm sure Embraer's view of the likely success of their product in the E2 was materially altered by the Airbus transaction for the C Series,'' said Carter Copeland, an analyst at Melius Research. "They went from competing against a distressed Bombardier to competing against a healthy and extremely competitive entity in Airbus. That changes the mindset of the leadership team at Embraer.''
— With assistance by Rick Clough, Thomas Black, Fabiola Moura, and Julia Leite
Before it's here, it's on the Bloomberg Terminal.
LEARN MORE