technology
Bitcoin Growing Pains Even More Pronounced as Price Takes a Dive
By
Coinbase says all buying and selling was temporarily disabled

Bitcoin network transaction fees surge to a record $55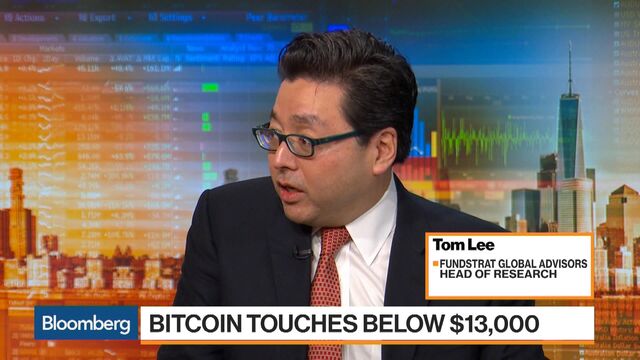 The growing pains of exchanges crashing and transaction times slowing down experienced during the surge in bitcoin are proving to be much more painful on the way down.
Coinbase, one of the world's largest cryptocurrency exchanges, said all buying and selling was temporarily disabled during today's rout, after having delays in processing wire transfers and verifying new customers for the past week due to higher traffic. Bitcoin transaction volume jumped more than 30 percent on Coinbase's GDAX exchange, while fees to approve and record the transactions on the blockchain surged to a record $55, according to Bit Info Charts.
"I'm checking my bank account three times a day and every time I do, there's nothing there, it's very upsetting," said Ronnie Moas, founder of equity research firm Standpoint Research. He says he hasn't received funds transfered from his Coinbase account to his bank account over a week ago. "It is discouraging for people and I think that's why there's so much hunger for a product to come from Wall Street, this way people don't have to worry about delays, and protecting their accounts from getting hacked."
Bitcoin has tumbled as much as 42 percent over the past four days to $10,776, posting the biggest decline over such a span since 2013. Still, it's now just trading where it was three weeks ago. That kind of volatility, problems with exchanges and periodic headlines about one digital wallet or another getting hacked, come as Wall Street is slowly opening its doors to the cryptocurrency market. Institutions might help solve these issues, or they might spook them away.

Goldman Sachs Group Inc. is said to be setting up a trading desk to make markets in digital currencies such as bitcoin, Bloomberg News reported Thursday. The news comes in the weeks after Cboe Global Markets Inc. and CME Group Inc. started offering bitcoin futures.
Other major exchanges like Kraken, Bifinex and Gemini haven't reported any issues. Iqbal Gandham, a managing director at trading platform eToro, said he hasn't seen a big rush to sell.
"We haven't seen a panic or a rush to the door," Gandham said. "People expected a pullback, especially before the holidays. This last dip seems to be U.S. waking up. Chinese markets tomorrow morning will be crucial."
Gandham said eToro has added 100 people to its 400-people staff and took additional floor space because of the increased traffic from cryptocurrency trading. "I think all exchanges are seeing this," he said.
Long-time cryptocurrency enthusiasts, like David Mondrus, aren't fazed and see the dip as a buying opportunity. Bitcoin is rebounding from its low today and back up above $12,000.
"As the meme says, 'if you can't handle my 25% plunges, you don't deserve my 10x return," said Mondrus, who is also chief executive of Trive, a blockchain-based research platform. "People cashing in on the huge rise to buy gifts, do their tax structuring, taking profits. It's healthy, nothing goes up forever without stopping."
For related news and information:
XBT Curncy GP for bitcoin
VCCY for crypto monitor
Before it's here, it's on the Bloomberg Terminal.
LEARN MORE