As Venezuela's Inflation Surges, a Favorite Holiday Treat Is Out of Reach
By and
Hallacas cost as much as Venezuela's monthly minimum wage

International Monetary Fund sees inflation of 2,300% in 2018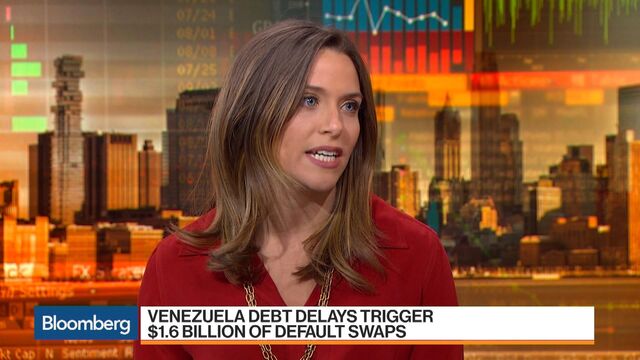 Inflation in Venezuela is now so out of control that even one of the country's most beloved holiday treats is beyond the reach of many this Christmas.
Caracas research group Cenda estimates the cost of a hallaca, a tamale-like snack, at 35,498 bolivars ($0.32 at the black market rate) this season. That's a whopping 1,724 percent increase on last year. Just five of the meat-filled, cornmeal wraps cost the same as the minimum monthly wage.
Over the past four years of recession, Venezuelans have suffered from soaring inflation and shortages of food and medicine. The economy shrank a staggering 16.5 percent last year, according to a government report filed to the U.S Securities and Exchange Commission on Thursday. Inflation for 2016 reached 274 percent. The IMF expects annual inflation to hit 2,300 percent next year. 
Ready-made hallacas are selling for between 25,000 to 150,000 bolivars, or between $0.22 and $1.34, a significant outlay given an average monthly salary of around $4. (All dollar calculations are done according to today's black market rate on dolartoday.com, which tracks the data.)
Those trying to make their own are scrounging in street markets for contraband corn flour and cooking oil. With most food imported, Venezuelans are forced to pay expensive foreign prices on their local wages. As a result, the hallaca fillings are paltry, with stewed vegetables in place of meat.
In response to the shortages, the government is subsidizing pre-made hallacas and their ingredients. "A hallaca in our solidarity and revolutionary market costs only 3,500 bolivars, while in Julio Borges' and Donald Trump's speculative market it costs 50,000 bolivars," said Urban Agriculture Minister Freddy Bernal, referring to a Venezuelan opposition leader and the U.S. President, in a video posted on Twitter.
Some Venezuelans are using social media to sell hallacas for up to $70.
In November, President Nicolas Maduro approved a one-time 500,000-bolivar "special Christmas bonus" for 4 million households, adding that the government would give every child a toy and each household up to six kilograms of pork shoulder, another season favorite. Protests have erupted at the government's failure to supply these packages, according to reports on social media.
(
Corrects spelling of Nicolas Maduro in the last paragraph of story originally published on December 22.
)
Quotes from this Article
Before it's here, it's on the Bloomberg Terminal.
LEARN MORE