Politics
What the Democrats Can Learn From Alabama in 2018
The chance of winning back the House and Senate depends on whether the party can duplicate Doug Jones's upset in other red states.
By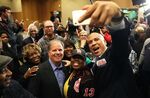 Even before his upset win in Alabama's U.S. Senate race, Doug Jones had already pulled off the improbable. His campaign had managed to build up Alabama's Democratic Party infrastructure from almost nothing and had quietly funneled millions of dollars of outside money into a state wary of both outsiders and Democrats. On the eve of the election, two things were apparent: Jones had cobbled together a diverse coalition of black, independent, and moderate Republican voters, and his fundraising totals were more than double those of opponent Roy Moore, $11.5 million to Moore's $5.2 million.
Jones's win, along with Democratic victories in gubernatorial races in Virginia and New Jersey, gives Dems momentum heading into the 2018 midterms. To win back both chambers of Congress, they'll have to flip 24 seats in the House of Representatives, protect 10 Democratic senators in states Trump won, and gain two Senate seats. Doing that depends largely on whether they can transfer what worked for Jones in Alabama to other historically red states.
Some things will be impossible to replicate. It's doubtful other Democrats next year will enjoy the kind of fundraising advantage that Jones had. It's also unlikely they'll face an opponent quite like Moore, whose poor performance, compared with how well Trump did in Alabama in 2016, is "an anomaly of an anomaly," says Matt Mackowiak, a Republican strategist. "There isn't going to be another Roy Moore on the ballot. There's not even anything close to that."
Giles Perkins, Jones's campaign manager, says campaigns need to be self-sufficient, especially where Democrats lack a strong state party. "We had to build everything out on our own," he says. "We acquired our own voter file, raised our own money, assembled the consulting team." It's also key for Democrats to focus on the basics. "My first piece of advice is make sure you have a candidate that looks like their district, that the people can relate to," Perkins says. "Keep it as local as you possibly can."
That goes for organizing, too. Part of Jones's success was his ability to tap national party resources without raising alarm bells of local conservatives who might get angry about outside liberals invading their state. The Democratic National Committee and the Democratic Senatorial Campaign Committee worried about tying Jones too closely with the national party and worked behind the scenes providing advice, support, and resources. The DNC spent almost $1 million, primarily for organizing black and millennial voters. The trick was doing it quietly. "This was all about not being overt, because it was not in Doug's best interest to have this race nationalize," says Jaime Harrison, the former chairman of the South Carolina Democratic Party and associate chair of the DNC.
Despite predictions that Jones wasn't focusing enough on black voters, they made up 29 percent of the electorate, outperforming their turnout for President Obama in 2012. Some Democrats argued Hillary Clinton's campaign put too much into minority outreach. Yet the results in Alabama and Virginia in November suggest boosting black turnout can go a long way toward helping a red- or purple-state Democrat win. If a district is at least 20 percent black, "you better invest in it," says Harrison.
Before December, Senate Democrats needed three seats to claim the majority. Now they need two. Their best pickup opportunities are in Arizona and Nevada, where anti-establishment GOP candidates Kelli Ward and Danny Tarkanian are attacking Senate Majority Leader Mitch McConnell. "For the first time, Democrats can actually contemplate competing for the majority," says Jennifer Duffy, a Senate race analyst at the Cook Political Report. "I wouldn't say that they're favored to win it, but until [Jones's victory] the possibility didn't even exist."
Democrats see Tennessee and Texas as the two states with 2018 Senate races most likely to benefit from the Alabama playbook. In Tennessee, former Democratic Governor Phil Bredesen's entry into the race in early December shifted the seat to a "toss-up" in the Cook Political Report's analysis. Texas Senator Ted Cruz, meanwhile, appears more vulnerable than other Republicans have in recent statewide elections. Dems are hoping to capitalize by ramping up their outreach to minorities and millennials, as Jones did.
Dems could also repurpose a message that resonated for Jones—the idea of working with Republicans in Congress. "The question we had throughout the campaign was, OK, but will rank-and-file Democrats, will African Americans, will women, will millennials be excited about somebody who's saying he wants to work with the other side?" says Joe Trippi, Jones's media strategist. To him, the answer was a resounding yes, and if Dems can pull that off in Alabama, then the Senate is "absolutely in play," he says. "I don't think there's any place now that's safe."
Whit Ayres, a GOP strategist advising Senate and House candidates next year, admits Republicans are going to have "the wind in their face," but he points out that, given the 26 seats Senate Democrats will have to keep, the GOP has been "blessed with an extraordinarily favorable map in 2018." As they try to defend their turf, the Democrats may have an unexpected ally in former Trump strategist Steve Bannon, who's waging an insurgency against the GOP wing led by McConnell. As they did in Alabama, where a Bannon-backed Moore beat out McConnell's pick, Luther Strange, Democrats could benefit from a series of grueling Republican Senate primaries producing either bruised establishment Republicans or weak insurgent candidates.
In Indiana, GOP Representatives Luke Messer and Todd Rokita are fighting it out in an increasingly nasty Senate primary. West Virginia State Attorney General Patrick Morrisey is competing with Representative Evan Jenkins for the title of most pro-Trump Republican. Chris McDaniel, a Mississippi state legislator who narrowly lost to Senator Thad Cochran in the state's 2014 Republican primary, is being urged by Bannon to run against Senator Roger Wicker. While Bannon's brand was tarnished by Moore's loss, Trippi expects he'll stick around for 2018. "I don't think he's gonna go away," he says. "He's gonna be funded, he's gonna try to get more of his ilk elected and nominated." —With Jennifer Epstein
BOTTOM LINE -
Democrats are hoping to use Jones's Alabama strategy to make inroads in other red states during the 2018 midterms.
Before it's here, it's on the Bloomberg Terminal.
LEARN MORE