U.S. Third-Quarter Growth Revised Down to 3.2% Pace From 3.3%
By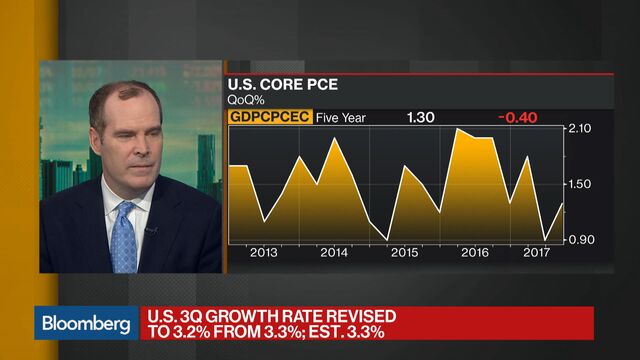 The U.S. economy's third-quarter growth was revised slightly downward on lower contributions from consumer spending and trade, though the pace remained the fastest since early 2015, Commerce Department data showed Thursday.
Highlights of Third-Quarter GDP (Third Estimate)
Gross domestic product grew at 3.2% annualized rate (est. 3.3%), revised from 3.3% and following 3.1% in 2Q
Consumer spending, biggest part of the economy, grew 2.2% (est. 2.3%), revised from 2.3% and following 3.3% in 2Q
Business equipment investment revised to 10.8% gain from 10.4%; intellectual property spending advance revised to 5.2% from 5.8%
Gross domestic income gain revised to 2% from 2.5%
Key Takeaways

The revisions for GDP, the value of all goods and services produced, still show the economy was on a strong run last quarter, with recent reports indicating the momentum extended into the current period. While the tax overhaul ready for President Donald Trump's signature may give a boost in the coming year, economists say his goal of 3 percent sustained annual growth remains a challenge.
The lower reading on consumer spending, which accounts for about 70 percent of the economy, reflected data on recreation services and airline passenger revenue, according to the report. Business investment was robust in the quarter, with revisions to components ultimately amounting to a wash compared with the previous report.
State and local government spending was revised to an increase of 0.2 percent, reflecting construction data, from a prior report of a 0.1 percent drop. The average of GDP and GDI was revised to a 2.6 percent advance, from a previously estimated 2.9 percent gain.

Other Details

Net exports added 0.36 percentage point to growth, revised down from 0.43 point; inventories added 0.79 point, little changed from the previously reported 0.8 point
Corporate pretax earnings rose 5.3 percent from a year earlier, revised from 5.4 percent gain
Nonresidential fixed investment -- which includes spending on equipment, structures and intellectual property -- increased an unrevised 4.7 percent
Residential investment fell at a 4.7 percent rate, revised from 5.1 percent decline
Stripping out trade and inventories -- the two most volatile components of the GDP calculation -- final sales to domestic purchasers climbed 1.9 percent, revised from 2 percent
Core PCE price index rose at 1.3 percent rate, revised from 1.4 percent; Federal Reserve targets 2 percent inflation for headline PCE
GDP report is the third of three estimates for the quarter; fourth-quarter figures are due Jan. 26
— With assistance by Kristy Scheuble, and Chris Middleton
Before it's here, it's on the Bloomberg Terminal.
LEARN MORE