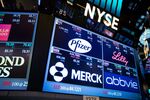 The market for diabetes drugs is one of the most competitive in all of pharma. 
There are frequently many similar treatments available to treat a very large patient population, which gives insurers and pharmacy benefit managers method and motive to work hard to drive down prices. They've been succeeding, and will get more ammunition in the year to come. 
The FDA on Wednesday approved Steglatro, a diabetes medicine from Pfizer Inc. and Merck & Co. Inc. It is reaching the market behind Bristol-Myers Squibb & Co. and AstraZeneca PLC's Farxiga; Johnson & Johnson's Invokana; and Eli Lilly & Co.'s Jardiance. And it will hit the market three or more years behind each of those medicines. Payers have already gotten huge discounts on those older drugs; Steglujan's entry will likely make them bigger. Sanofi plans to file for approval of yet another drug in the class next year. 
A similar dynamic is evolving in a different class of diabetes treatments called GLP-1 agonists. Novo Nordisk A/S's Ozempic -- approved by the FDA on December 5 -- is also late and one of many such drugs on the market, behind Glaxo, Eli Lilly, Sanofi, AstraZeneca, and an earlier Novo drug. It may turn out to to be the best of these medicines, but price competition will undoubtedly be fierce. In fact, Glaxo's late-to-market entry has had such a hard time drumming up sales that the company is pulling it from the market.
Whether they're stuck in a rut or just irrationally optimistic, drugmakers are still investing in such follow-on efforts. The firms in this market hope to differentiate their drugs by proving they have a heart-health benefit or better side-effect profile. That may give one or more of these late-arriving drugs a sustained edge.
But the likelier scenario over the long run is an ever-fiercer price war, and a whole bunch of duplicative R&D and marketing spending that might have gone to novel medicines. 
There's an obvious appeal to making follow-on drugs -- they feel safe. You know the drug mechanism works, and there's potential for big profit if your entry proves best in class. But in a market as crowded as diabetes, it's not just a boring strategy, it's one that may be doomed to failure.  
Before it's here, it's on the Bloomberg Terminal.
LEARN MORE