Putin Offers Bonds for Russia's Richest Spooked by Sanctions
By , , and
Finance minister says debt will be part of planned borrowing

Business group had asked for instruments amid sanctions fears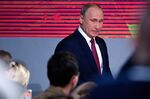 President Vladimir Putin said Russia is planning to issue foreign-currency bonds next year to help wealthy local investors repatriate capital as concerns over Western sanctions grow.
"At our last meeting, you asked for convenient mechanisms to bring capital back into Russian jurisdiction and suggested using Russian foreign-currency bonds," Putin said on Thursday at a Kremlin meeting with top businessmen including several under sanctions. "I've given the order to set the necessary terms and parameters to issue such bonds for Russian investors so they can circulate next year."
The threat of additional penalties by the U.S. on prominent businessmen has raised anxiety in Moscow and led some to consider bringing funds now held offshore back to Russia. This week, the U.S. Treasury expanded restrictions to include several more prominent Russians. A provision of new U.S. sanctions law gives President Donald Trump's executive branch until February to identify "oligarchs" close to Putin who can be slapped with visa bans and asset freezes as further punishment for the Kremlin's meddling in American elections.
Finance Minister Anton Siluanov said late Thursday a possible issue will include no special terms and will be offered as part of Russia's plan to raise $3 billion abroad next year. 
Speaking to reporters Friday, he said that amount could be increased if demand is strong, with net domestic borrowing -- now set at about 800 billion rubles for next year -- reduced to keep the overall total within budget limits. Current estimates of demand for repatriation bonds range from about $1 billion to $3 billion, he said.
'Feeling Pressure'
While attracting returning Russian capital is important, the Finance Ministry needs to make sure enough foreign investors buy bonds to provide liquidity on the market, Siluanov said.
"They are a key indicator, key investor for us," he said. "We're very focused on them and we don't want to undermine confidence in our securities."
The sale will be organized by Russian banks and will use local clearing mechanisms, although the bond will also be accepted by Euroclear Bank SA, he said. Legal changes will be made to exempt Russian investors from taxes on foreign-exchange gains over the period the bonds are held, he added.
"While Russia is following rigid fiscal discipline, in the environment of sanctions it will be necessary to ease the fiscal and debt burden on certain businesses and social groups," said Vladimir Miklashevsky, senior economist at Danske Bank A/S in Helsinki. "The president and the government have started to prepare for the fact that the current external standoff has come to stay for many years."
Russia is likely to offer another tax amnesty next year to stimulate capital repatriation and conditions will be similar to the one offered in 2016, according to Siluanov. "This is for those who didn't take advantage of that one but are feeling pressure now," he said.
— With assistance by Olga Voitova, and Yuliya Fedorinova
Quotes from this Article
Before it's here, it's on the Bloomberg Terminal.
LEARN MORE