U.S. Sanctions Chechen Chief Kadyrov for Human Rights Abuses
By
Forty-nine people now sanctioned under Magnitsky Act

Law was subject of Trump Jr.'s meeting with Russian lawyer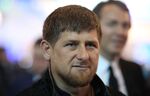 The U.S. Treasury Department sanctioned Chechen leader Ramzan Kadyrov and four other people for human rights violations in Russia, a move likely to exacerbate tensions between Washington and Moscow.
The designations announced Wednesday bring the total number of individuals sanctioned under a 2012 law known as the Magnitsky Act to 49. Kadyrov, who has long been accused of extrajudicial killings and other abuses, is an ally of Russian President Vladimir Putin.
"We will continue to use the Magnitsky Act to aggressively target gross violators of human rights in Russia, including individuals responsible for extrajudicial killings, torture, and other despicable acts," the director of Treasury's Office of Foreign Asset Control, John Smith, said in a statement released Wednesday.
The law, which places sanctions on Russians for human rights abuses, has come up in the investigations into the Trump campaign's ties to Russia. Donald Trump Jr., the president's son, met with a Russian lawyer working to amend the law in June 2016.
Read a QuickTake Q&A on the evolving Trump-Russia saga
The meeting had been arranged with Russian lawyer Natalia Veselnitskaya on a pretext of providing the Trump campaign incriminating information about Democrat Hillary Clinton, then-candidate Donald Trump's political opponent.
Given the alliance between Putin and Kadyrov, Treasury's move is likely to anger officials in Russia and further delay the rapprochement Trump says he seeks with Moscow. It follows pointed criticism of Russia's foreign policy goals in Trump's national security strategy unveiled on Dec. 18.
Putin last year asked Kadyrov to run for re-election, a month after the Chechen leader said on state TV that he wanted to quit. He picked the former Chechen separatist in 2007 to fight extremists and maintain control after Russia fought two wars in the mainly Muslim North Caucasus republic. Kadyrov switched sides during the second war and backed the Kremlin with his father, Akhmad, who was made leader of Chechnya until he was assassinated by militants in a bomb explosion in the capital, Grozny, in 2004.
Kadyrov, who won 98 percent of votes in the September 2016 election, has recently faced international condemnation over reports of an anti-gay crackdown in Chechnya. He denies the charges.
"There was a time when people like me were needed -- to fight, to bring order," Kadyrov, 41, said in an interview broadcast last month on state-run Rossiya 1 TV, adding that it would be up to the Kremlin to decide on his successor. "Now we have order."
Senator Ben Cardin of Maryland, the ranking Democrat on the Foreign Relations Committee, welcomed the announcement.
"Today marks a victory for the citizens of the Russian Federation, many of whom strive for a future governed by the rule of law," Cardin said in a statement. "As a country we must remain steadfastly committed to the principles embedded in the Magnitsky law -- accountability, the rule of law and respect for human rights."
— With assistance by Henry Meyer
Before it's here, it's on the Bloomberg Terminal.
LEARN MORE