Taiwan's Central Banker Leaves Legacy of Stability, Sharp Elbows
By and
Perng Fai-nan known for tight grip over currency, commentary

Taiwan seeks to appoint first new chief policymaker since 1998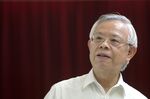 When Perng Fai-nan took over as Taiwan's central bank governor, one share in Apple Inc. cost less than 80 cents, China's economy was smaller than Italy's and the Asian financial crisis was in full force.
Since February 1998, Perng has been a quiet guiding force behind Taiwan's economy as it overcame financial crises and tech bubbles, natural disasters and rocky international relations to double in size. One of the world's longest-serving central bank governors, Perng is set to retire in February, with no successor yet announced, nor any official hints on who's being considered.
At least part of Perng's success has been his willingness to enter the fray, such as demanding bankers not comment on the Taiwan dollar. And highlighting that no issue is too trivial, in 2012 the bank issued a statement denying a report in a local newspaper that Perng used an iPhone, saying that the governor doesn't use a mobile phone at all.
"This is Perng's style," said Shea Jia-dong, a former finance minister and deputy governor at the CBC. "He has his own convictions and he doesn't let anyone challenge them."
The monetary authority did not respond to requests for comment on the issues outlined in this article.
Click here for more on Taiwan's search for a successor to Perng
Perng, 78, was first appointed governor at a time of national tragedy. His predecessor Sheu Yuan-dong was among more than 200 people killed in a China Airlines crash on the outskirts of Taipei in February 1998. With the Asian financial crisis then roiling the region, Perng's immediate task was to help shield the economy from the worst of the fallout.
Since then, Perng, who holds a doctorate from the University of Minnesota, has retained his position through three subsequent presidencies. He has not been shy about publicly reminding people of the central bank's authority over monetary policy.

With exports accounting for roughly three-quarters of the economy, Taiwan's currency has always been a key focus -- both to local authorities and a U.S. government that discourages intervention by its trading partners. The U.S. Treasury added Taiwan to its currency monitoring watchlist in April 2016. Perng's repeated analogy has been that Taiwan is a small boat in a vast ocean, making the currency's managed floating regime fitting.
Taiwan's unique toolbox for enforcing that regime includes rules, window guidance, and suspected intervention. Perng has overseen a five-fold surge in reserves and a more-than 20-fold jump in the current-account surplus during his tenure.
In October, the U.S. government took Taiwan off its watch list for currency manipulation, handing Perng a major win as his tenure ends. Since then though, there have been signs that the central bank is entering currency markets. The bank denies claims of intervention.
"A small economy's room for monetary policy is limited, and FX policy has been restrained by the U.S., so there's not a lot of room to act," said Chen Po-chih, a presidential economic adviser and former CBC board member. "Over the years Perng has managed to prevent large swings in the Taiwan dollar and major financial crises. He's succeeded in defense already."

Taiwan owes a lot to the decisiveness of Perng's monetary-policy decisions, said Ma Tieying, an economist at DBS Group Holdings Ltd., who has been watching the economy since 2005.
Perng will chair his last board meeting on Thursday, where he is expected to keep the policy rate unchanged for the sixth straight meeting.
President Tsai Ing-wen has yet to announce who will succeed Perng. Deputy chief Yang Chin-long was seen as his most likely replacement in a Bloomberg survey of economists conducted in August. Whoever takes over from Perng will have to carefully balance inflation with stagnant wage growth at home, navigate tightening monetary policy overseas, and fend off suspicions of currency intervention.
"It has been very hard to find an appropriate successor with a comparable reputation, so Perng's been re-appointed repeatedly," Ma said.
— With assistance by Miaojung Lin
Before it's here, it's on the Bloomberg Terminal.
LEARN MORE