Politics
Sweden Says #MeToo
In Scandinavia, harassment claims get a policy response.
By , , and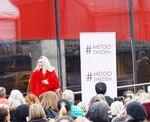 Sweden is one of the world's most gender-equal countries. It topped the European Union's gender-equality index in 2017 and ranked fifth on this year's Global Gender Gap Index from the World Economic Forum. When adjusted for differences in jobs, sectors, education, age, and working time, the wage gap is just 4.5 percent. This is largely the result of policies instituted since the 1970s designed to foster greater gender equality, which includes that fathers take at least 90 of the allotted 480 days' paid parental leave. That helps ensure dads share in child rearing and that moms stay in the workplace.
And yet Sweden has been in the grip of its own #MeToo movement, raising questions about whether the nation's policies are actually creating a gender-equal society. Under the hashtag #silenceaction (a reference to what Swedish directors say before filming), hundreds of actors, including Oscar winner Alicia Vikander and Noomi Rapace, star of the Swedish version of The Girl With the Dragon Tattoo, said they will no longer stay quiet. Similar campaigns have been undertaken by women in law (#withwhatright), music (#whenthemusicends), politics (#inthecorridorsofpower), the clergy (#lettherebelight), sports (#timeout), unions (#nonnegotiable), and even archaeology (#diggingisunderway), to name a few.
Many in Sweden argue that it's the country's gender-equal policies that have enabled #MeToo to gain such traction there. "Women in Sweden expect change," says Asa Regner, the country's minister for children, the elderly, and gender equality. "They know that gender equality is possible, and they're aware of their rights."

While much of #MeToo in the U.S. and elsewhere has been about exposing powerful individual abusers, Swedish women have largely left both victims and aggressors anonymous. They've focused on creating culturewide change: Some 60,000 women in the country of 10 million people—almost 1 percent of the female population—have signed more than 25 #MeToo petitions, calling for measures such as longer statutes of limitations for sexual crimes, more and better education about equality, and a whistleblower system for people to report abuse anonymously.

The same issues have been roiling the Swedish parliament, where there's been informal debate on increasing punishments for sex-based crimes and funding for organizations that help victims, as well as increasing focus on gender equality in school curriculum. A statement released on Dec. 15 by the government in response to the #MeToo movement described policy changes in motion, including a bill to alter the country's legal definition of rape, which applies only to sexual encounters that involve battery or threats of violence, to cover all forms of nonconsensual sex. By yearend, Sweden will have a national agency dedicated to gender issues to ensure that "we get results from the decisions and money we invest," Regner says. Much of what's needed, she says, is greater enforcement of existing policies, especially within the corporate sector. Swedish law states that employers must actively promote equality between men and women in the workplace, including in corporate leadership, and take preventive action against harassment. An equality ombudsman resolves enforcement disputes. About half of Sweden's government ministers and more than 40 percent of its members of parliament are women. The government calls itself feminist and consciously applies the lens of gender equality to policymaking discussions.

According to a survey conducted by market-research firm Novus for Sweden's public broadcaster, SVT, 70 percent of Swedes believe #MeToo will lead to change, including 72 percent of women and 67 percent of men polled. In another SVT survey, 22 of 28 employers with more than 10,000 workers and 9 of 10 trade unions said they thought the movement would have long-lasting consequences.
With a general election in September 2018, the issue of gender equality is likely to remain high on the agenda, given the widespread impact it's having in Sweden. "The revolution is happening at full force," former ABBA member Bjorn Ulvaeus wrote in a newspaper op-ed on Dec. 4. "It's an unstoppable avalanche that will change society to its core. There is now no way back." —With Anna Molin
BOTTOM LINE -
While Sweden has instituted successful policies to promote gender equality, they haven't stopped harassment from happening.
Before it's here, it's on the Bloomberg Terminal.
LEARN MORE