South Africa's ANC Agrees to Push Constitutional Change on Land
By , , and
Land expropriation shouldn't damage the economy, ANC says

Constitutional change requires two-thirds parliamentary vote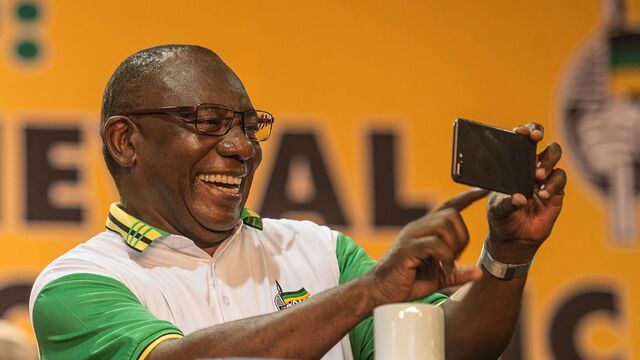 South Africa's ruling African National Congress agreed to seek a change in the constitution to allow for the expropriation of land without compensation, provided it doesn't affect the economy and food production.
The party agreed to the proposal in a debate that "nearly collapsed" its five yearly conference, Enoch Godongwana, the head of the ANC's economic transformation committee, told reporters in Johannesburg on Wednesday. Delegates didn't agree on a deadline for the change and the policy must not affect other sectors of the economy, he said.
"There should be no illegal occupation of land," Godongwana said. "That is part of the resolution we have taken."
South Africa ruling party has sought to accelerate redistributing land to the country's black majority from the more affluent white minority but is deeply divided on how to achieve that, with President Jacob Zuma seeking radical policies as his term as national leader comes to an end. Cyril Ramaphosa beat Nkosazana Dlamini-Zuma, Zuma's preferred candidate and ex-wife, to become ANC president this week.
The rand reversed gains of as much as 1.1 percent against the dollar and was 0.3 percent weaker at 12.7435 by 10:15 p.m. in Johannesburg.
Farm Debt
Two-thirds of lawmakers need to approve a change in the constitution. The ANC holds 62 percent of the seats in parliament and the opposition Economic Freedom Fighters, which backs the proposal, has 6 percent.
Read more about land policy in South Africa
White farmers own almost three-quarters of South Africa's agricultural land, according to a land audit by farm lobbying group Agri SA published last month. The amount of land owned by the government and racial groups who were disadvantaged under white-minority rule rose to 26.7 percent of South Africa's agricultural land in 2016, from 14.9 percent in 1994, according to the audit.
Farm debt to South Africa's commercial banks was about 89 billion rand ($7 billion) in December 2016, according to data from the Department of Agriculture, Forestry and Fisheries.
— With assistance by Michael Cohen
Before it's here, it's on the Bloomberg Terminal.
LEARN MORE