politics
May Lands in Poland to Seek Brexit Ally After Firing Deputy
By and
Quest for allies complicated by EU threat to discipline Poles

Trip comes hours after losing close Cabinet supporter Green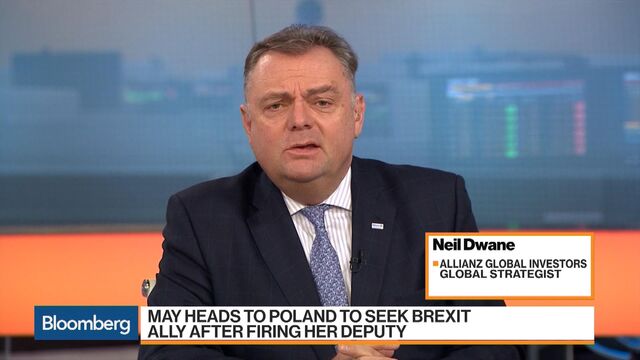 Follow @Brexit for all the latest news, and sign up to our daily Brexit Bulletin newsletter.
U.K. Prime Minister Theresa May arrived in Poland on Thursday to attempt to get close -- but not too close -- to its new government, as she sought to move the agenda forward after firing her closest political ally.
May was forced to tell First Secretary of State Damian Green to resign Wednesday afternoon after an inquiry into his behavior found he'd made misleading statements over pornography found on his parliamentary computer by police nearly a decade ago. Green is the third Cabinet minister to quit in two months.

A couple of recent Brexit-related successes mean the prime minister is better equipped to handle Green's departure than she might have been a month ago: The European Union has agreed to move negotiations on to the next phase, and late Wednesday, May's flagship Brexit Bill completed the detailed scrutiny stage of its journey through the House of Commons. Still, his departure leaves her without her closest ally in the Cabinet.
The flight to Warsaw gave May a chance to consider how she will manage without him. In the short term at least, she's not likely to appoint a new deputy, according to two people familiar with the matter. The position of first secretary of state was tied to Green because he was a close and trusted friend as well as someone who understood and shared May's political agenda, one official said.
May took her most senior ministers with her to Poland for a summit where she's promising cooperation on defense and security as part of a charm offensive to win friends in Europe before negotiations on post-Brexit trade start in March.
A news conference with May will take place in the early afternoon.
Poland-EU Spat
But Poland's rift with the EU over judicial reforms -- and its government's fears of a shortfall in EU funding after Britain leaves the bloc -- threaten to overshadow the meeting with new Polish Prime Minister Mateusz Morawiecki.
"The prime minister will raise her concerns with the prime minister when they meet," May's spokesman James Slack told reporters in London. "We place importance on respect for the rule of law and we expect all our partners to abide by international norms and standards."
Britain's rush to forge links with Morawiecki's populist administration reflects a desire both to win friends for the talks ahead and to reassure former eastern European countries that it will continue to support them against Russian expansionism after Brexit. British troops are already stationed in Poland, and May will announce increased cooperation on cyber security.
"We want to work with Poland and the other member states in the future to protect our shared values, people and interests," May said in a statement. "I am determined that Brexit will not weaken our relationship with Poland. Rather, it will serve as a catalyst to strengthen it."
Countering Russia
Alongside a treaty on defense and security cooperation that will enhance cooperation on training and information sharing, May will offer a package of measures "to counter Russian disinformation in the region," her office said. Britain will put 5 million pounds ($6.7 million) into a project to "detect and counter Russian information operations" and support Belsat, a TV channel that broadcasts to Belarus, according to the statement.
May's visit comes after the EU called Wednesday for national governments to discipline Poland for failing to uphold the bloc's democratic values, recommending an unprecedented process that could lead to economic sanctions and stripping the country of its voting rights.
The focus is on laws approved by the Senate -- and signed into law by President Andrzej Duda on Wednesday -- that will force two-fifths of Supreme Court Justices to retire and give politicians sway over court appointments.
The decision to discipline Poland -- backed by German Chancellor Angela Merkel and French President Emmanuel Macron -- underscores the erosion of trust between the EU's largest states and some of its eastern members just as the bloc prepares to enter into talks about trade after Brexit and its leadership emphasizes the importance of sticking together.
"I have no doubt that the real test of our unity will be the second phase of Brexit talks," EU President Donald Tusk, who chairs the summits, said last week. The next stage will be "incomparably more difficult," he added.
— With assistance by Tim Ross
(
Updates with May's arrival from first paragraph.
)
Before it's here, it's on the Bloomberg Terminal.
LEARN MORE