Spain Learns About Russian Interference the Hard Way
By and
Russia has been courting Catalan separatist leaders for years

Assange, Snowden tweets echoed Russian strategy on Catalonia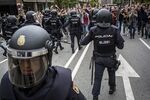 Russia has been courting Catalan separatists for years, yet it took a declaration of independence and a violent crackdown on the streets of Barcelona for Spain to respond to the external interference with any urgency. 
After some initial hesitation -- and staunch denials from Moscow -- a consensus is emerging in Madrid that Russia's propaganda campaign exacerbated the crisis triggered by Catalonia's illegal referendum on statehood in October. The battle to contain the rebels forced Prime Minister Mariano Rajoy to dissolve the local legislature and schedule snap elections for Thursday.
One senior Spanish official said the government may have been slow to respond to modern Russian psyop capabilities but it now has the tools needed to defend the country's "information space" during the Catalan vote and beyond. The official declined to elaborate, citing national security concerns.
Rajoy's critics say he and his ministers have been harping on the issue since the referendum to distract the public from their attempt to stop millions of Catalonians with long-held grievances from expressing their will at the ballot box. The level of rancor generated by the movement has broken the pact that's kept regional tensions in check since the 1970s and prompted European leaders to mount an awkward defense of their Spanish ally's clampdown.
"Spain was a secondary target," said Ben Nimmo, who tracks Russian disinformation campaigns at the Atlantic Council's Digital Forensic Research Lab in Washington. "The primary target is the validity of Western democracy."
'The Art of War'
Western officials have expressed concern that sanctions imposed on Russia over its actions in Ukraine and alleged meddling in the U.S. election last year have done little to curb the Kremlin's appetite for political offensives that involve everything from overt news outlets to covert hacking networks.
Russia's strategy for stoking unrest in Catalonia and elsewhere has been based on using trolls and bots to spread ever-more subtle forms of propaganda through fake accounts on Facebook, Twitter and other platforms, they say.
Britain's top national security adviser, Mark Sedwill, urged lawmakers this week to read "The Art of War" by Sun Tzu for advice on dealing with Russia in the digital age. One nugget from the ancient Chinese general: "The supreme art of war is to subdue the enemy without fighting."
A study by George Washington University found that stories about Catalonia that were produced by Russian cable channel RT and news service Sputnik were shared 10 times more than those of their Spanish counterparts, RTVE and EFE. Both RT and Sputnik broadcast and write in multiple languages, including Spanish, English, French, German and Arabic.
A state-funded think tank in Madrid found that legions of Russian hackers and trolls set up thousands of automated bots and fake accounts to promote stories that portrayed the central government in as bad a light as possible.
Here are just two examples of Catalan stories produced by the Kremlin's media arm that were widely circulated and wildly misleading:
"Spanish Gov't Finds No Data on Alleged Russian Meddling in Catalonia's Affairs" was published in English by Sputnik on Nov. 11.
Then there was this Oct. 28 story by RT's Spanish-language service, which went viral: "Tanks in the streets of Barcelona": Spain and Catalonia on the verge of a violent outcome."
Assange, Snowden
But the most influential posts in the run-up to the Catalan referendum appear to have come from two real people, both of whom are U.S. adversaries with unusual ties to the Kremlin: Julian Assange and Edward Snowden.
Original posts by the WikiLeaks founder and NSA whistleblower accounted for almost a third of the 150,000 tweets and retweets using the #Catalonia hashtag in the 10 days to Sept. 24, according to the Hashtagify monitoring tool.
Sputnik headlined 11 Catalan stories with Assange comments, including one that accused Bloomberg of propaganda.
"They effectively weaponized his tweets," said the Atlantic Council's Nimmo.
It was a well-timed operation, with pro-Kremlin Twitter accounts increasing their mentions of the crisis by 2,000 percent in the 48 hours leading up to the referendum, El Pais newspaper reported, citing real-time data compiled by the U.S.-based Alliance for Securing Democracy.
Russia, though, continues to ridicule Spanish assertions of interference.
"Any volcano, meteorite or earthquake is all Moscow's work because like some divine force it manages to be everywhere," said Andrei Klimov, deputy head of the international affairs committee of the upper house of parliament.
President Vladimir Putin has been more circumspect, branding the West hypocritical for backing the independence of Kosovo from Russia's ally Serbia while denying the same right to Catalonia. (Spain is among a handful of EU members that don't recognize Kosovo.)
Anti-Globalization Campaign
Suspicions in Madrid grew after South Ossetia, a tiny Kremlin protectorate that Russia went to war against Georgia over in 2008, opened a representative office in Barcelona in October.
"We're monitoring the situation," South Ossetia's deputy foreign minister, Alan Kochiev, said by phone. "For us, the most important thing is that everything be decided in a democratic manner, without any pressure."
The South Ossetian mission is just the latest example of Russia's increasingly open support of strategically selected independence movements.
Back in 2012, Catalonia's then-leader Artur Mas led a delegation to drum up backing in Moscow, where met with one of Putin's closest allies, Defense Minister Sergei Shoigu, who was the governor of the Moscow region at the time. Catalan separatists returned in 2015 and 2016 for an annual congress of rebel parties organized by the Kremlin-funded Anti-Globalization Movement.
"The Catalans understood that if a referendum was successful they would need legitimacy -- and legitimization is recognition at a government level," the head of the movement, Alexander Ionov, said in an interview in Moscow.
Syria, Hezbollah
Ionov has a history of working with some of Russia's most politically sensitive allies. In 2014, before Putin joined the war in Syria, he met Bashar al-Assad in Damascus. He said he's killed extremists in Syria while fighting alongside Hezbollah brigades and represented Ukrainian rebels in South America.
With Catalonia's separatist parties in danger of losing their majority in the regional parliament on Thursday, Ionov said they may have to "go underground" for a bit, but that doesn't mean they won't prevail.
"Every nation has a right to self-determination and they should follow this path to the end if there's no other choice," he said.
Now that Catalan independence is no longer at the boiling point, Russia's strategy is to back off and see what happens, according to Sergei Markov, a political consultant to Putin's staff.
"Although we do have sympathy for all separatists, we've put it to one side at the request of the Spanish government," Markov said. "But of course, the more problems the European Union has the better. We have to counter this aggressive anti-Russian trend."
— With assistance by Ilya Arkhipov
Before it's here, it's on the Bloomberg Terminal.
LEARN MORE