Finance
Guaranteed Sales Fuel the Art Market
Sellers want peace of mind, so auction houses are prearranging bids.
By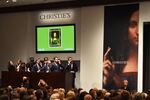 From the moment Christie's announced plans to sell a painting by Leonardo da Vinci, the buzz around the 500-year-old canvas swirled from Hong Kong to San Francisco. Naysayers questioned the authenticity of the rediscovered masterpiece, Salvator Mundi, but that didn't stop more than 30,000 people from lining up to view the work during a whirlwind global tour. On Nov. 15 some 1,000 people packed into Christie's salesroom in Midtown Manhattan, across from Rockefeller Center, to witness the event. Art world insiders were taking bets on the outcome.
It sold for a record-shattering $450 million. But the work already had been guaranteed to sell for more than $100 million weeks before the auction, thanks to a prearranged bid. Only 12 other artworks have ever passed that price milestone.
Over the past decade, such guarantees have become a must for the world's top two auction houses, Sotheby's and Christie's Inc., as well as some smaller houses like Phillips Auctioneers LLC. The guarantees help the houses land the next big trophy work and gain greater market share. For sellers, the guarantees are like an insurance policy. "It became absolutely de rigueur that they ask for a guarantee option," says Ed Dolman, a former Christie's chief executive officer who now fills that role at Phillips.
To persuade collectors like billionaires Steven Cohen and Paul Allen to part with their works, auction houses offer guaranteed prices, no matter the outcome. The added security comes at a cost—sellers give up part of the profit should the final auction price exceed the guarantee. Some of that money goes to guarantors who don't ultimately wind up with the art. That's what happened with the Leonardo.
"You want peace of mind," says Alberto Mugrabi, a private dealer and collector. To get that, he says, "you need to give up some of the upside." Says Phillips's Dolman: "If you've got a $30 million work of art, it's an incredibly important asset for an individual or a family. You can't just take a chance on whether it sells or not, because the work of art that fails to sell at auction loses its value in the short term."
Guarantees can be a risk for an auction house. Sotheby's reported $60.2 million in losses related to guarantees when the art market soured during the financial crisis in 2008. For Christie's, the success of Salvator Mundi was offset to a degree by another work in the same auction that failed to sell, a painting by Jean-Michel Basquiat. Il Duce was estimated to fetch $25 million. Christie's itself put up the guarantee, and the painting now sits in its inventory. A Christie's executive says the auction house is in the process of selling the work privately.
It's outcomes like the Basquiat's that have led auction houses to shift guarantees to third-party investors who provide the financing in exchange for a share of the house's profit from the sale. That's how the Leonardo was guaranteed. "The balance sheets of the major auction houses cannot cope with carrying the risk on their own," says Dolman. The third-party guarantor agrees to place a prearranged, irrevocable bid to ensure a sale. If the work sells to the guarantor, he or she still may receive a financing fee, which ends up reducing the final price.
The top dealmaker for Sotheby's, Adam Chinn, negotiated $286 million in guarantees for sellers leading up to its November auctions in New York. He used Sotheby's balance sheet to offer the guarantees and line up art for sale. After publication of catalogs, Chinn turned to hedging Sotheby's risks by securing irrevocable bids. By the time of the auctions he'd offloaded all but $16.8 million of the guarantees. "People take comfort in the fact that an auction house puts capital behind works," says Chinn, who is seeing new backers enter the market. "It used to be dealers. Now it's people from hedge funds and finance, sophisticated players. They're willing to buy the picture at the price. If someone outbids them, they get the check."
That's a risky bet if you don't know what you're doing, says Philip Hoffman, founder and CEO of the Fine Art Group, a London-based art investing firm that in 2013 set up a fund to finance guarantees. Auction estimates for what art might fetch are too high, Hoffman says, and, if no one else bids, the guarantor can end up stuck with a very expensive painting. "A financing fee can be peanuts in proportion to the guarantee," he says. But sometimes such arrangements pay handsomely. According to his own calculations, and based on the $400 million pre-commission price for Salvator Mundi, Hoffman estimates that the guarantor of that sale made $90 million to $150 million. "Most deals are not like that." 
BOTTOM LINE -
Christie's and Sotheby's increasingly are lining up third-party guarantors, sophisticated financial players, to minimize their own risk at auction.
Before it's here, it's on the Bloomberg Terminal.
LEARN MORE