Congress Dives Into Shutdown Drama After GOP's Win on Taxes
By and
Current funds end after Friday, to be extended to Jan. 19

Lawmakers may add money for disaster aid, opioids, health care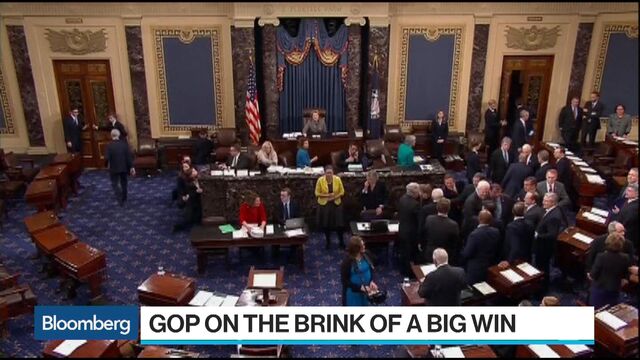 Congressional leaders are trying to jam as many extras as possible into a must-pass spending bill that may ricochet between the House and Senate right up to the deadline three days from now.
Top Republicans, poised to finish a sweeping tax-cut bill this week, are eager to avoid an embarrassing government shutdown. They also want to resolve other pressing issues without making too many concessions to Democrats or alienating the conservative GOP lawmakers in the House.

A shutdown is "not going to happen," Senate Majority Leader Mitch McConnell of Kentucky said on Fox News Tuesday night. "We'll work it out, we always do." Current funding for government operations expires at the end of the day Friday.
In addition to providing funding to keep the government running, lawmakers are trying to load up the package with provisions including extending an insurance program for low-income children, raising spending limits, stabilizing Obamacare insurance markets, providing disaster aid and reauthorizing government surveillance powers. It's a big task for a short week.
The House is set to act first, voting on a bill to extend federal funding until Jan. 19. Lawmakers there initially were considering combining that with a full year's defense spending and an $81 billion disaster aid package.
But that plan has shifted several times in the last two days. The House may drop the defense spending and pass a straightforward two-week funding extension, according to a Republican aide. That would put the disaster assistance in a separate measure, but a final decision hasn't been made, according to the aide, who spoke on condition of anonymity to discuss private deliberations. A proposal to extend disputed National Security Agency surveillance authority beyond Dec. 31 also may receive a separate vote.
Once the House acts, Republicans and Democrats will work on a revised bill for a Senate vote. Democrats in that chamber have leverage because Republicans need their help for the 60 votes needed to pass a spending bill. It's possible a spending bill will move back and forth between the House and Senate in the next few days before lawmakers reach a final agreement.
Both parties also are negotiating on broad spending caps for domestic and defense spending for the rest of the fiscal year. Democrats want equal increases for defense and non-defense spending and seek to limit any offsetting spending cuts. Representative Steny Hoyer, the second-ranking House Democrat, said a deal could come together later this week.
"We haven't had any real offers yet," said Senate Democrat Patty Murray, the lead negotiator on past budget-cap deals. "It's only Tuesday."
If lawmakers agree on budget caps, Republican leaders may add to the spending bill a number of measures opposed by the most conservative Republicans, such as the surveillance extension and Obamacare insurance subsidies. At least some Democratic votes would be needed in the House and Senate to enact the spending bill.
Gary Cohn, President Donald Trump's chief economic adviser, said Wednesday that he expects Congress to pass a two-week extension of federal funding and deal with other issues in January.
"We'll deal with caps and we'll deal with all the spending issues -- military issues, and all the other issues at the beginning of next year," he said at an a Axios event in Washington.
McConnell and Senate Minority Leader Chuck Schumer have given some insight into their priorities. McConnell said Monday he wants to reauthorize the Children's Health Insurance Program, extend government wiretapping authority, pass a veterans' health measure, fund disaster relief and include two proposals intended to reduce Obamacare insurance premiums.
Another candidate for inclusion is waiver of "pay-as-you-go" rules that otherwise would automatically cut Medicare spending to offset part of the revenue lost in the tax-cut legislation.
Schumer said Tuesday he wants more money to combat the opioid crisis plus enactment of the CHIP and Obamacare health bills, disaster relief and protection against deportation for 800,000 young undocumented immigrants known as "dreamers." He warned against a simple funding extension that would include "some of these items but not others."
"That won't work. We should be doing all of these things together instead of in a piecemeal, week-by-week fashion," Schumer said.
Here are the items that may be added to the spending bill, from the most likely to least likely.
Jan. 19 Stopgap: 
The House and Senate are talking about the same extension date for a short-term spending bill. Senate Democrats have made clear -- and Republicans have conceded -- that the House GOP proposal to include a full-year's funding for defense won't pass the Senate, even if it clears the House. The bill could contain $4 billion in emergency missile defense funds the administration has requested to counter the North Korean threat.
National Flood Insurance Program:
Flood insurance was temporarily extended in the last two stopgap spending measures as the House and Senate negotiate whether to let private insurers compete with the government program in a longer extension. There's been no sign that this program will be allowed to expire with hurricane-affected states still tackling claims.
Disaster Aid
The $81 billion hurricane and wildfire relief bill has bipartisan support in the House, even though there may not be enough Republicans to pass it without Democratic help. The Senate is expected to revise the disaster package before passing it, redirecting some of the funds.
Children's Health Insurance
Pressure is mounting on Congress to renew the Children's Health Insurance Program, which lapsed in October, as states have started sending notices that children from low-income families won't be covered in January. The House stopgap bill contains a five-year extension paid for, in part, by cutting an Obamacare prevention fund and charging high earners more for Medicare Advantage. Senate Finance Committee top Democrat Ron Wyden said he's optimistic negotiators will find another way to pay for CHIP this week.
Avoiding Medicare Cuts
McConnell and House Speaker Paul Ryan promise they won't allow the tax-cut bill to trigger automatic spending cuts in Medicare. The tax-cut measure also would end Obamacare's requirement that most Americans buy health insurance or pay a penalty. House Democrats are threatening to vote to allow the Medicare cuts unless Republicans reinstate the Obamacare coverage requirement. Senate Democrats haven't made that threat, and it's unclear whether House Democrats would stick to it on the verge of a government shutdown.
Surveillance
A provision of the Foreign Intelligence Surveillance Act, set to lapse Dec. 31, lets the National Security Agency intercept calls or emails from suspected foreign terrorists outside the U.S. Critics say the FBI should be required to get court warrants to search data about Americans collected under the program in most cases. If an agreement on revisions can't be reached this week, Congress could enact a short-term extension.
Obamacare Payments
McConnell promised Maine Republican Susan Collins that the Senate would act on two Obamacare bills before the end of the year. One would renew cost-sharing payments to insurers that were ended by Trump, and another would set up a form of reinsurance to lower premiums. Many House Republicans are skeptical of the cost-sharing measure in particular, so there's no guarantee it will get into a final spending bill.
"I committed — and I will keep the commitment — to offering Murray-Alexander and Collins-Nelson to the spending bill later in the week," McConnell said of the provisions in an interview.
Immigration
A bipartisan group of senators is working on a deal to combine protections against deportation for undocumented immigrants brought to the U.S. as children with a border-security and interior enforcement plan. Republicans say the talks are going well but are almost certain to continue into January.
"That's a matter to be discussed next year. We have plenty of time to do that," McConnell said Tuesday on Fox News.
Republican Senator James Lankford, who is participating in the immigration talks, said that a meeting Tuesday between the group and White House Chief of Staff John Kelly yielded progress, but that a final deal combining a border-security package with deportation protections for young immigrants won't be ready before lawmakers leave for the holiday recess.
"There are too many issues that are outstanding," he said.
Democratic leaders won't insist their members uniformly vote against the spending bill if it fails to include protections against deportation, according to a Democratic aide.
— With assistance by John Fitzpatrick, Billy House, Sahil Kapur, and Toluse Olorunnipa
Before it's here, it's on the Bloomberg Terminal.
LEARN MORE