Centuries-Old Gibraltar Dispute Threatens Brexit Progress
By
May's government wants quick transition deal to help business

Spain says separate talks on disputed territory needed first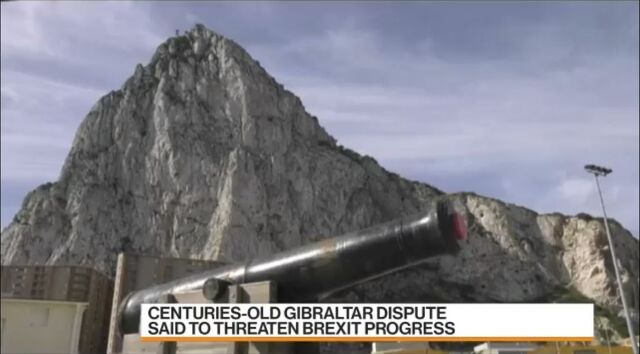 A 300-year-old argument between Britain and Spain over a small piece of land is threatening to derail Theresa May's plans to help businesses navigate Brexit. 
U.K. officials fear Spain will threaten to veto a Brexit transition phase if the British prime minister refuses to negotiate a separate deal with the government in Madrid that covers the disputed territory of Gibraltar. While the peninsula has been in British hands since 1713, Spain maintains a claim over the 2.6 square miles (6.7 square kilometers) of land.
Fears are growing among ministers in London that a new framework for the next phase of Brexit talks, due to be outlined by the European Union on Wednesday, might reignite the centuries-old arguments, a U.K. official said. May faces pressure to quickly strike a deal on transitional terms to assure U.K.-based businesses that trade rules won't change suddenly on Brexit day in March 2019.
May wants an agreement on the transition -- or "implementation" -- phase by March 2018 in order to shift talks on to the long-term future trade agreement. She hopes the two-year period of stability immediately after Brexit will help encourage businesses to stay based in the U.K.
Separate Agreement
Last week, Spanish Prime Minister Mariano Rajoy suggested his government would need to give its explicit consent to any transitional deal affecting Gibraltar. The measure would require separate negotiations between London and Madrid, he said.
Read more: Why the Gibraltar dust-up exposes Brexit tensions: Q&A
Gibraltar is on the EU's radar, according to a senior EU official familiar with the issue. Transition won't cover Gibraltar unless there's a separate deal between the U.K. and Spain and it's an issue that requires a solution from both countries, the official said.
One U.K. official who asked not to be identified said British overseas territories must be included within the EU's guidelines for negotiating an overall transitional period. To do anything else would be a contradiction in the EU's own position, the official said.
In Parliament on Monday, May was repeatedly asked to guarantee that the Brexit and transition agreements will cover Gibraltar. She insisted that the "Rock," as it is known, will not be left out.
Before it's here, it's on the Bloomberg Terminal.
LEARN MORE