Steinhoff Losing Credit Lines as Accounting Scandal Deepens
By
Retailer tells lenders it didn't know cash flow of operations

Magnitude of accounting irregularities still isn't known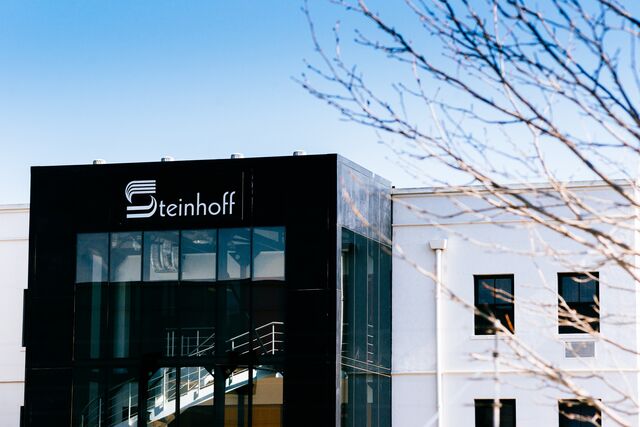 Embattled furniture retailer Steinhoff International Holdings NV was pushed to the brink of collapse after it said lenders have started to cut off support in the wake of an accounting scandal that destroyed most of its value in a matter of days.
As the owner of Conforama in France and Mattress Firm in the U.S. seeks a lifeline, it's still unable to assess the magnitude of financial irregularities disclosed two weeks ago, it said in a presentation Tuesday. A makeshift management team made a plea to banks in London after an 85 percent plunge in the share price and the departure of the two men who built the South African company into a would-be rival to Ikea via debt-fueled acquisitions.
The shares resumed their plunge Tuesday, slumping 20 percent in Frankfurt to close at a record low.

The presentation shows that Steinhoff has yet to contain the fallout from a crisis that has prompted the resignations of Chief Executive Officer Markus Jooste and billionaire Chairman Christo Wiese, the company's largest shareholder. Steinhoff said earlier Tuesday that Chief Operating Officer Danie van der Merwe, 59, had been made interim CEO to helm the recovery attempt, while Conforama boss Alexandre Nodale, 39, will serve as his deputy in a new four-member management board.
Steinhoff didn't have "detailed visibility" of the cash flows of individual operating companies, it said in the presentation to banks. The units rely on the company for working capital and "the forecast position for each operating company is evolving daily," it said. PwC has been hired to investigate the accounts, while corporate turnaround specialist AlixPartners LLP is working on an analysis of the cash flow.
The company said it still didn't know when it would be able to publish audited results for 2017 and 2016, nor whether additional years will need to be restated.
Read More: Why South Africa's Steinhoff Could Be Next Enron: QuickTake Q&A
The meeting with lenders including Citigroup Inc., Bank of America Corp., HSBC Holdings Plc and BNP Paribas SA was attended by Van der Merwe, Nodale and three other executives. Ben La Grange, the chief financial officer, and Heather Sonn, who replaced Wiese as chairman, were not scheduled to give the presentation.
Steinhoff's trauma marks an abrupt reversal in fortune for the retailer, which has been on a breakneck expansion since Wiese bought into the company via the sale of his African clothing chain, Pepkor, in 2014. The company has snapped up Mattress Firm and Poundland since then, and moved its primary listing to Frankfurt from Johannesburg and registered office to Amsterdam. Its share price tripled between early 2012 and the end of 2016.

The company's 800 million euros ($944 million) of notes due in January 2025 on Tuesday fell 2 cents on the euro to 52 cents, data compiled by Bloomberg show. They were quoted at 89 cents at the start of the month.
Steinhoff had outstanding debt of 10.7 billion euros as of Dec. 14, the company said. Almost 4.8 billion euros of that was in Steinhoff Europe AG, an operation based in Austria. About 690 million euros in notional facilities have been rolled over to date, according to the presentation.
Wiese, whose net worth has plunged to $2.1 billion from more than $5 billion a fortnight ago, last year pledged 628 million of Steinhoff's shares as collateral to borrow money from Citigroup Inc., HSBC Holdings Plc and Nomura Holdings Inc.
Banks that provided funding to an entity controlled by Wiese have sold 98.4 million Steinhoff shares, exercising their security rights over stock held as collateral, the company said late Thursday. Wiese also sold 10 million shares in Shoprite Holdings Ltd., another South African retailer he controls, to raise 2.15 billion rand ($168 million) as he battles to remain liquid.
— With assistance by Katie Linsell, Sam Chambers, and Richard Weiss
Before it's here, it's on the Bloomberg Terminal.
LEARN MORE