Saudi Arabia Sees Higher Oil Revenue as OPEC Cuts Boost Prices
By and
Non-oil revenue to increase 14 percent, budget statement shows

Kingdom plans to end 'addiction' to oil, sell Aramco stake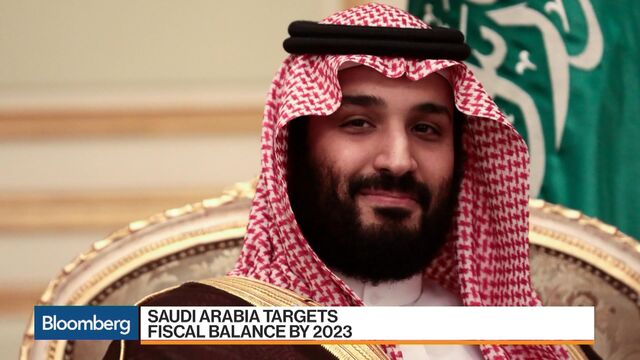 Saudi Arabia expects oil revenue to jump 12 percent next year in a sign the world's biggest crude exporter expects prices to keep rising in 2018.
The top OPEC producer expects to collect 492 billion riyals ($131 billion) from oil sales in 2018, compared with 440 billion riyals this year, the Finance Ministry said on Tuesday in a budget statement. Non-oil revenue will climb to 291 billion riyals from 256 billion riyals in 2017.
Oil is on course for a second annual gain after the Organization of Petroleum Exporting Countries and its allies agreed to extend production curbs through the end of 2018. Compliance with OPEC cuts rose to 115 percent in November, the highest since the agreement took effect in January, according to the International Energy Agency. Brent crude was trading at $63.98 a barrel at 10:57 a.m. in Dubai, up 13 percent this year.
"Assuming Saudi Arabia will continue to comply with the OPEC production cuts throughout 2018, the budgeted increase in oil revenue reflects an expectation of higher export prices," said Ziad Daoud, chief Middle East economist for Bloomberg Economics. Higher exports or an increase in oil prices can help to balance the budget, he said.
The 2018 budget is based on an oil price of about $63 a barrel, Bloomberg Economics estimated. Iraq, OPEC's second-biggest producer, is assuming $46 a barrel for its 2018 budget, pending parliament approval, up from $42 a barrel for this year. Qatar's 2018 budget assumes $45 a barrel while Iran expects to earn $33 billion from oil sales at $50 a barrel.
The Saudi government relies heavily on oil sales for revenue, and its finances have taken a blow since prices started tumbling in 2014. The country's oil exports dropped to 6.8 million barrels a day in October from 8 million at the end of last year. Saudi Arabia stands to now benefit from the rise in oil prices. Total projected revenue next year is at 783 billion riyals, up from 696 billion riyals in 2017. The government intends to spend 978 billion riyals in 2018 compared with 926 billion this year, the Finance Ministry said.
The kingdom implemented austerity measures in 2016 to weather the downturn. In April, Crown Prince Mohammed bin Salman rolled out the Saudi Vision 2030, an economic plan to end the country's "addiction" to oil. The country intends to sell a stake of about five percent in state energy producer Saudi Arabian Oil Co. , the world's biggest oil exporter.
The Finance Ministry's budget statement showed on Tuesday that Saudi Arabia is extending its timeline to cut energy subsidies as the government seeks to offset the impact of austerity measures on the stagnating economy. Domestic gasoline prices will now reach parity with international levels gradually between 2018 and 2025 -- compared to the previous target of 2020, according to the 2018 budget statement.
The plan is subject to change according to fiscal developments, according to the ministry. The government is planning to raise local gasoline prices by about 80 percent in January, a person with knowledge of the matter said earlier this month.
— With assistance by Khalid Al Ansary, Vivian Nereim, and Ziad Daoud
Before it's here, it's on the Bloomberg Terminal.
LEARN MORE