quicktake
China Is Creating a Massive Carbon Market to Fight Climate Change
Mathew Carr and Feifei Shen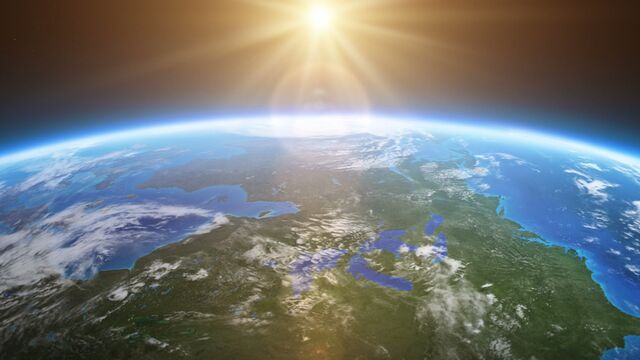 China, which more than a decade ago surpassed the U.S. as the world's biggest polluter, is looking to financial markets to help restrain its greenhouse gas emissions. On Tuesday, China confirmed that it's building what will become the biggest market for the carbon dioxide emissions that stem from burning fossil fuels. The program will force utilities to pay for at least some permits to release carbon dioxide, encouraging them to invest in equipment that will use fuel more efficiently and reduce pollution.
1. How significant is China's carbon market?
China's participation in carbon trading would boost the portion of emissions covered by pricing worldwide to almost 25 percent. It creates a financial incentive for power companies in China to cut emissions and favor cleaner power generation. Pollution is still rising three decades after almost 200 nations led by the U.S. endorsed the United Nations Framework Convention on climate change, a treaty to limit fossil-fuel emissions. Carbon markets, along with cheaper renewable energy, have started to slow that growth.
2. What is the carbon market supposed to do in China?
The market is supposed to help clean the air and reward companies and executives for switching to cleaner systems. It provides a carrot because companies that can cut emissions quickly can sell spare allowances for profit. On the stick side, companies that fail to comply may be fined or have to pay for more permits to pollute.

3. Will this impact carbon trading in Europe or the U.S.?
Not yet, but it might. China's push for its own market may embolden authorities in Europe and the parts of the U.S. where carbon markets operate to strengthen theirs. More than a decade after carbon trading started in Europe, prices remain at less than half of the 20 euros-a-ton level that industry analysts say is needed to spur real change. Having China involved blunts concern that industries will move away from places where carbon trading flourishes, since one of the big potential destinations for factories to relocate would now be covered.
4. Is China becoming more ambitious on carbon trading?
China is moving more carefully in erecting its market. A year ago, authorities were considering a nationwide system that would cover 7,000 companies. The program confirmed on Dec. 19 includes only 1,700 companies in the utility industry, and it isn't clear whether it will extend across the whole of China or just to nine provinces, said Sophie Lu, a researcher at Bloomberg New Energy Finance in Beijing.
5. What's still being worked out?
The government has yet to say when trading will start. Traders also will want to know how many of the emissions permits will be handed out for free and how any auctions of allowances will work, whether there will be fines for non-compliance and what the timetable is for bringing more companies under the system. Further out, it will be interesting to see if China moves to link its market with trading in Europe and the Americas.
The Reference Shelf
— With assistance by Andrew Reierson
Before it's here, it's on the Bloomberg Terminal.
LEARN MORE