politics
Trump Accused in Court of 'Extreme Hostility' to Women in Combat
Pamela MacLean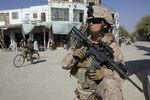 Women in the U.S. military escalated their legal battle for equal footing in combat units, saying the Trump administration has shown "extreme hostility" toward integrating the armed services.
Almost five years after the Obama administration vowed to end gender barriers, the Service Women's Action Network alleged in court Monday that Trump set the tone for a retreat when he faulted his predecessor on the campaign trail for pursuing a "politically correct military." The women say the president's chief of staff, Marine General John Kelly, and Defense Secretary James Mattis also have shown an "animus toward women soldiers" and promoted their continued exclusion from combat units.
In Monday's filing, an update to a lawsuit first filed in San Francisco federal court in 2012, the women take aim at an Army and Marine Corps policy of "Leaders First," which bars junior enlisted women from entering combat battalions until two or more "women leaders" have joined those battalions. The Defense Department "has not provided any justification for a policy that deliberately leads to the isolation and segregation of women, either during training or upon accession to a combat arms unit," according to the complaint.
The women also blast the Marines over "sex-segregated Basic Training," saying it relegates females to second-class status.
The administration said last month in a filing that while it's making "substantial progress on the implementation of females into previously closed units and has no plans to reverse that policy, DoD cannot commit that a policy will never be changed in the future."
Before it's here, it's on the Bloomberg Terminal.
LEARN MORE