Short Seller Says Naive Bitcoin Traders Open a Pathway to Profit
By
Bitcoin Investment Trust trades well above the bitcoin it owns

Left recommends shorting the trust, buying bitcoin futures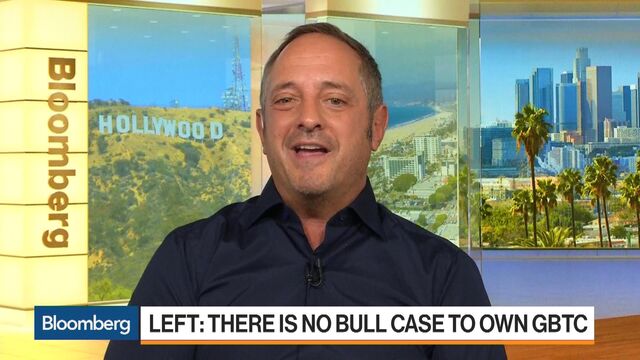 As newly launched derivatives contracts draw pros into the bitcoin market, a short seller still sees a massive inefficiency -- and a chance to profit off naïve traders.
The Bitcoin Investment Trust, a publicly traded vehicle whose bitcoin holdings are worth $1,601 a share, nonetheless trades at a price more than double that amount, according to data compiled by Bloomberg.
A savvy trader could in theory mint money by betting that gap will shrink. Futures contracts introduced over the past week by Cboe Global Markets Inc. and CME Group Inc. provides a way to do that: Buy the futures, short sell the Bitcoin Investment Trust.
That's precisely what Andrew Left, a short seller at Citron Research, is doing, a fact he reiterated via tweet on Monday morning. "Citron would not be pounding table if not appropriate," he wrote. "Thank you for the 70 percent profit."
He then followed that up with comments on Bloomberg Television. "There's an incredibly naïve investor base behind this who doesn't want to check the extra boxes off to open a futures account," he said. The gap between the trust's price and holdings "has to do with investors out there that do not know what they're doing." Left also said that the current challenge for investors interested in shorting the trust is finding shares to borrow.

The futures are already showing signs of efficiency. When they debuted a week ago, Cboe's traded for a price as much as 13 percent higher than the price of bitcoin -- a wide gap indicating an immature market. But that's since narrowed to about 1.3 percent. CME's futures started trading Sunday night and have a similar arbitrage spread.
Read More: Bitcoin Futures Are Dangling a Free Lunch for Starving Arbs
Before it's here, it's on the Bloomberg Terminal.
LEARN MORE