Samsung Appeal Testimony Details Undisclosed Park-Lee Meeting
By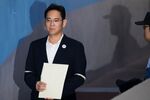 Samsung Electronics Co. de facto leader Jay Y. Lee had one more meeting than previously disclosed with former President Park Geun-hye, a witness said, supporting an assertion by prosecutors that the billionaire heir sought to cover up bribery involving the world's biggest memory chipmaker.
Park's former secretary Ahn Bong-geun, who took the stand Monday, said he showed Lee into the house within South Korea's presidential compound to meet with Park in 2014. Lee's lawyers have said that Park and Lee met only once, in the city of Daegu for five minutes in the same year.
Ahn's testimony complicates Lee's appeal and efforts to clear his name. Lee was sentenced to five years in prison in August for bribing Park. Prosecutors argued that Lee sought the support of the national pension fund in order to complete a 2015 merger between two Samsung affiliates, which helped him secure more control over Samsung Electronics. Lee's lawyers have denied that the grandson of the company's founder engaged in any bribery, arguing the merger was aimed at boosting the group's competitiveness.
South Korean Scandal May Force Change of Chaebol Ways: QuickTake
The bribery allegations added fuel to an influence-peddling scandal that sparked nationwide protests and led to Park's ouster in March. The judge in the first trial ruled that Lee bribed Park's longtime confidante with horses in order to curry favor with Park.

In a separate corruption case handled by prosecutors, Ahn was detained last month on charges of illegally taking funds from the national intelligence agency while Park was in power.
Lee's appeal hearings are set to be wrapped up by the end of this year, with a ruling expected in January.
Samsung has achieved record operating profit on soaring semiconductor prices this year despite Lee's absence. Moon Jae-in, who became president after Park, has promised reforms against family-run conglomerates, and has warned against corruption in dealings between government and politicians.
Before it's here, it's on the Bloomberg Terminal.
LEARN MORE