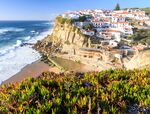 Portugal's economic recovery has received the all-important investment-grade stamp of approval from a second major ratings company. Fitch Ratings's double upgrade removes its junk status and follows S&P Global Ratings's one-notch move in September.
It's the first time that a ratings company has seen fit to award Portugal a double notch upgrade. This will allow Portugal back into some, but not all, of the major bond indexes.
Fitch says Portugal's debt profile is on a "firm downward trend," and expects its ratio of debt to gross domestic product to narrow a whopping three percentage points to land below 127 percent this year. That would be the first such step down since 2011, when it was forced into a 78 billion-euro ($92 billion) bailout. To call a drop of that size, to a ratio that high, worthy of an investment-grade rating is nothing short of heroic.
The rally in 10-year Portuguese bonds has nevertheless sealed its star-performer status this year, and its yields are even below Italy's. But there is a danger that all the good news has been priced in -- which leaves investors vulnerable since a lot of the outperformance is due to the relative shortcomings of its peripheral peers.

Portugal is benefiting not just from positive economic progress but from the political stress afflicting its peers.
A regional election this Thursday in Catalonia and a general election in Italy on March 4 are making investors more cautious on the larger peripheral bond markets. Once these big political events have passed they will probably be much more willing to buy. But the current uncertainty is enough to hit yields of Spain and Italy.

What is also driving Portuguese yields lower is the relative scarcity of its debt. The European Central Bank has had to restrict Portuguese QE purchases by about 10 billion euros as it bumps up against its self-imposed limit of owning no more than one-third of any nation's debt. Portugal had already featured in the previous QE, the Securities Market Program. 
And if the central bank can't buy, it's just as tricky for fund managers, who also are not obliged to buy. 
Italy, by comparison, has bond market that's around 12 times bigger than Portugal's. Gadfly has already warned that a sharp dip in ECB purchases starting next year has investors wary. But a massive Italian repayment of around 25 billion euros in April will restock the ECB's arsenal as it has committed to reinvesting maturing holdings. This leaves the central bank with less firepower to support the country's bond market as the election approaches.
Italy also has more supply coming on Dec. 28, in the form of a sale of five, seven and 10-year bonds, whereas Portugal's debt exchange on Dec. 6 ended its official business for the year.
And next year, Portugal could become less scarce. It's intent on paying back expensive International Monetary Fund borrowings, and could issue as much as 10 billion euros in the first few months of 2018. Relatively, that is a lot of supply for such a small market 
The brutal reality is that Portugal is still wholly dependent on the support of the ECB. The ratings companies are not doubting that backstop.
But investors should beware when the pendulum swings back for Portugal. 
Before it's here, it's on the Bloomberg Terminal.
LEARN MORE