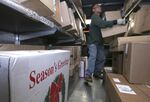 With the holiday shopping frenzy in full swing, there's a reasonable chance you'll experience some sort of e-commerce-related headache in the next week or two.
Maybe one of your packages will be stolen. Maybe a gift will end up damaged after it sits on your stoop in the rain for hours. Maybe you'll have to drive to some far-flung distribution center to get your goods because you missed the delivery driver too many times.
It's an especially noticeable nuisance at this time of year, but such delivery snafus are a year-round problem. And retailers and shipping companies ought to get much more serious about solving them.
To their credit, retailers, along with FedEx Corp. and United Parcel Service Inc., have made huge strides in transforming their supply chains to adapt to the rise of online shopping. It is now commonplace to receive packages within two days -- a standard set years ago by Amazon.com Inc. that many others now match. 

But so far, the innovations for delivery have focused heavily on speed -- and not enough on giving shoppers more control and flexibility over when and where they get their goods. 
More retailers are dabbling in things like same-day delivery or one-hour delivery, suggesting they think shoppers see speed as synonymous with convenience. But that is not always the case. 
Sometimes the ultimate convenience is getting a valuable item a full week after you ordered it, but during a brief window of time when you know you'll be home to receive it. Convenience is also not having to field a call from a delivery driver during your workday to say yes, he can leave the package on the front step. So far, the e-commerce supply chain has been really lousy at solving this sort of problem.
And it's surely costing retailers digital sales. 
I think it is a good sign that two of the biggest names in online shopping seem to be zeroing in on this problem. Wal-Mart Stores Inc. announced in September it is piloting a program for "in-fridge delivery," in which couriers with a one-time passcode to a smart lock on your front door can enter your home while you're gone and put away your groceries. You can watch the process on security cameras.
Amazon soon followed suit with Amazon Key, a service that also relies on smart locks to give delivery workers -- or house-cleaners or dog-walkers -- access to your home. 
I don't love either of these models. As I've written previously, I'd feel a little uneasy about letting a stranger into my house to put away my granola bars -- even if I can watch the process. (Maybe because I can watch the process?)
But I'm encouraged these programs don't seem aimed at solving for near-instant gratification. Rather, they try to answer, "How can we get goods to people's homes without them having to rearrange their lives?"

I also think it's noteworthy that these latest experiments are spearheaded by retailers, not logistics behemoths such as FedEx and UPS, which don't seem to fully understand shoppers' needs. For example, I always struggle to be wowed by their growing network of "access points" -- places like supermarkets or drugstores where you can arrange to pick up or drop off a package.
Sure, access points might have convenient hours and let you avoid that whole package-theft thing. But with online shopping, you rarely get to choose your package carrier. If FedEx opens an access point right next to your apartment, but your favorite retailer always ships via UPS, then the new pickup spot is pretty useless to you. 
Hopefully, as retailers start solving these delivery conundrums -- in some cases, pairing with insurgent startups to do so -- it will put competitive pressure on the whole ecosystem, resulting in more convenience for shoppers. 
Who knows where such experimentation will lead? Imagine getting to choose your carrier at checkout, creating competition and more choices for consumers. Maybe Amazon Lockers and similar facilities will become as ubiquitous as McDonald's. Maybe delivery windows will become much more precise.
Whatever the future of package-delivery looks like, retailers should start positioning themselves for it.
Before it's here, it's on the Bloomberg Terminal.
LEARN MORE