China's Aging Population Bad for Innovation, Says Ctrip's Liang
Bloomberg News
China still has one of the lowest fertility rates in the world

Bigger cities can help to drive more entrepreneurial activity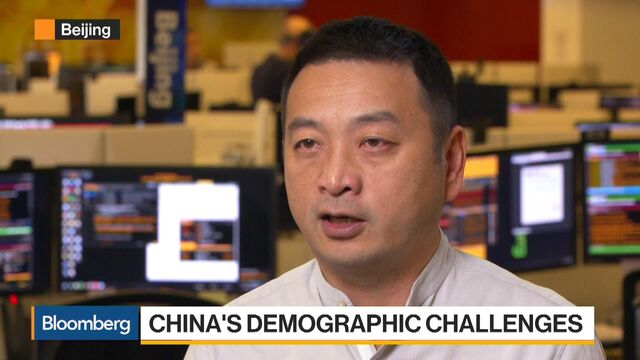 China's restrictive one-child policy, only recently partially relaxed, has saddled the country with a rapidly aging population, shrinking workforce and financial burden for years to come.
Less obvious is the drag an aging population has on things like innovation and entrepreneurship, argues James Liang, chairman and founder of Ctrip, China's largest online travel agency, in his soon-to-be published book, "The Demographics of Innovation."

"Innovation and entrepreneurship are particularly suited for people in their thirties. A workforce that is composed mostly of 50-year-olds is very different from one mostly composed of 20 to 30-year-olds," said Liang, who has a PhD in economics from Stanford University, in an interview with Bloomberg. "Innovation is the critical competitive factor for major economies going forward."
Click here for a primer on China's about turn on the one-child policy
The following are edited excerpts of the interview:
Question
Following years of the one-child policy, China's problem of course is an aging population, with not enough young people to support them. That puts financial pressure on families, companies and ultimately the government. Can you talk about what challenges that brings?
Answer
The thing to remember is China has a big cohort of people born in the 80s, and a much smaller cohort after that -- people born in the 90s, 2000s. So for the people born in the 80s to turn 65, there is still a long way to go. You are talking about around 2040.
But my thesis is different. It recognizes that innovation and entrepreneurship are particularly suited for people in their thirties. A workforce that is composed mostly of 50-year-olds is very different from one mostly composed of 20 to 30-year-olds. Even though the dependency ratio may be the same, the mix of ages in the workforce is going to be a big factor.
People born in the 80s will turn into 40 to 50-year-olds in 2020 to 2030. So that is happening way earlier than the financial dependency problem. In ten to fifteen years, China will have to face this workforce-aging problem. My book looks at how the new demographic trends will impact innovation and the economy in general. And innovation is the critical competitive factor for major economies going forward.
Question
And it is not just the relatively smaller number of young people in the workforce, but the fact that young people find themselves restricted in their ability to innovate, right?
Answer
That is the blocking effect. Within a company, if all the management positions are held by people in their fifties, they tend to be more conservative in new technology investment: they tend to be less risk-taking and slower in adopting new technology. That is just in existing companies.
So for an aging country, not only do they have fewer entrepreneurial 30-year-olds, but those they have usually have a lower position in the company hierarchy. So they have less exposure, less management skills, less financial resources, and less social connections as well. So they are less able as entrepreneurs.
Take Japan, for example. You see large companies have become more conservative as the country hit this aging problem. At the same time, their young people, their 30-year-olds, are not as entrepreneurial as in other countries.
Question
What sort of an impact does this have on the creation of new companies?
Answer
In an aging country, usually the public policy tends to be conservative too. Japan went through their economic stagnation for many years. The government provided very low interest rates and other financial help to its big companies, so they didn't fail, and there wasn't any massive jump of unemployment. But what is good for big companies is not so good for small companies who can't get the resources still controlled by the dominant companies. No creative destruction is being released.
Question
In your book, you also talk about both the importance of the scale and the geographical concentration of the population, what you refer to as agglomeration, in supporting innovation. Can you explain?
Answer
When there is a large pool of talents from multiple industries in the same close space, that generates a lot of efficiencies, because the innovation process is very dynamic and very deep. It requires deep interactions among many different types of researchers and talents. So that helps innovation in large cities where there is a large pool of talent.
Question
A related topic you look at is the common fear that robots will take jobs. What is your conclusion?
Answer
The trend isn't happening as fast as people think -- it is one generation, two generations away. And if you look at the most extreme prediction, sixty percent of jobs will be gone in the next 30 years. But if you do the math, that is doubling or more than a little bit doubling of productivity: it is like three or four percent a year. Three to four percent a year growth in productivity is great for the world. But it is not massively different from what we have experienced in the past. So this will be a gradual adjustment that can be absorbed by the economy.
Question
Which industries will thrive as China's population ages and which will suffer and why?
Answer
The sectors where older people have a lot consumption will do well, for example, medical and health care. Travel too will actually do well; the peak consumption age for travel spending is 60-years-old. That is when people have both a lot of money and time. So businesses like Ctrip will do well for a long time.
But most durable consumer goods, or even housing, have a peak consumption age of 45. So China will continue to be growing very nicely for the next ten to twenty years. But after that it will peak.
Question
How does the reality of an aging population affect Ctrip's business strategy going forward? Does this affect your company strategy?
Answer
It doesn't affect our strategy much, because overall travel demand is going to be strong. But at the micro level, we are developing certain products more suitable for older people, for example, tours that are more relaxing and slower-paced, for older tourists.
— With assistance by Dexter Roberts
Before it's here, it's on the Bloomberg Terminal.
LEARN MORE