politics
Pinera Regains Chilean Presidency on Growth Pledge
By and
Pinera won 54.6% of the vote, against 45.4% for rival Guillier

The former president will assume power in March next year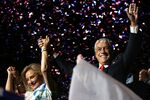 Billionaire Sebastian Pinera swept to victory in the second round of Chile's presidential election, putting him back in charge of Latin America's wealthiest country after four years of anemic growth that drew millions of voters to his pro-business agenda. Stocks posted the biggest gain in almost a decade.
It was a victory for those who believe fervently in growth first -- and equality second -- and it was one that had suddenly looked in doubt in the final days of the campaign. But Pinera wound up capturing 54.6 percent of the vote to just 45.4 percent for his rival Alejandro Guillier of the ruling center-left coalition.
The 68-year-old billionaire sees himself as the guardian of a free-market economic model that has more than quintupled gross domestic product per capita in the past 30 years, helping living standards in Chile to leapfrog countries such as Argentina and Brazil. He is now pledging to cut corporate taxes and ease industry regulation in an attempt to more than double growth and create 600,000 jobs. He won't throw out the reforms of President Michelle Bachelet, but he will provide a new pro-growth tone to government.
"Together, we can transform Chile into a developed nation," Pinera told cheering supporters late Sunday. "Into a Chile without poverty, with opportunity for all. Chile will recover the path of progress and development."

The benchmark IPSA stock index leaped 6.6 percent, the biggest gain since October 2008, while the peso jumped 2.38 percent to 621.42 per U.S. dollar, the biggest rally since March of last year.
Change of Tone
Pinera stretched out to his political rivals, pledging to be the president of unity, in a speech late on Sunday. It was a far cry from the campaign when he had gone as far as comparing Guillier to Nicolas Maduro, the socialist leader of the collapsed Venezuelan economy.
In a echo of that campaign, his supporters chanted "Chile has been saved" during his speech.
Pinera will assume the presidency in March, the latest stage in what has become something of an odd pact, with him and Bachelet alternating in power since 2006.

Stocks are also likely to rally. The benchmark IPSA index tumbled 5.9 percent on Nov. 20 after Pinera posted an underwhelming performance in the first round of voting, but has since recovered most of the losses.
Copper Slump
Pinera returns to power after the slowest four years of growth since the early 1980s and the country's first credit downgrade in several decades. While the government blames the weak economy on a slump in copper prices, many in the business community have cited Bachelet's program of increased corporate taxes and labor reform as being responsible for a drop in investment.
His ambitious growth and job creation goals may be attainable as the price of copper recovers. Chile is the world's largest producer of the metal and depends on it for 
about half of its export revenue.

Whether it was copper or economic policies that caused the downturn, Pinera will provide a respite for industry reeling from the busiest reform agenda in three decades. He is not proposing to reverse those changes, pledging instead to perfect the reforms and in the case of free higher education, take it even further.
"My rival knew how to adopt our flags," Guillier said after conceding defeat. "Chile has changed and that change is forever. But we have to be self-critical; we have received a hard defeat."
Pinera's victory ties in with a broader swing to the right across Latin America, with new governments in power in Argentina, Peru and Brazil in the past two years. Like those administrations, he pledges greater efficiency, less bureaucracy and a clear set of rules to encourage investment.
"It looks like becoming the biggest margin of victory for a right wing government in recent history," said Kenneth Bunker, director of the electoral program at the Universidad Central in Chile. Still, "Pinera will face a very fragmented Congress. He will be a moderate leader with no legislative majority."
First Term
Pinera's first term in office may be a good template for his second. During that period, soaring copper prices pushed economic growth to an average 5.4 percent, cut unemployment, slashed the poverty rate and financed reconstruction after the 2010 earthquake.
Yet, at the same time, a wave of student protests demanding better quality and free higher education made him one of the most unpopular presidents on record. Since then, protests have spread to the private pension system, bringing hundreds of thousands to the streets. Those protests may return and expand when he assumes power.
Forbes has estimated Pinera's wealth at $2.7 billion after he sold in 2010 a stake in Lan Airlines, Latin America's largest carrier by market value at the time, and holdings in a local football team and TV channel. In 2007, he was fined by Chile's securities regulator for buying shares in Lan after being informed of its earnings before they were made public.
(
Corrects to say Bachelet first came to power in 2006.
)
Before it's here, it's on the Bloomberg Terminal.
LEARN MORE