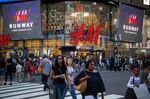 Hennes & Mauritz AB's conundrum is summed up by its position in New York's Staten Island Mall. 
A glitzy new Primark is located just a stone's throw from a dowdy H&M. Next to the store opened by the value clothing arm of Associated British Foods Plc in March, it looks dull and expensive. As Primark's global expansion features luxurious-looking stores and low prices, H&M isn't the only chain that should be on guard. That includes Inditex's Zara. 
H&M is one of the few retailers trying to expand its way out of a tight spot, adding new concepts such as Arket, the trendy Scandinavian marketplace, to its roster of brands.
As Gadfly has argued, that's the right thing to do. The trouble is, the core H&M brand still accounts for the vast majority of sales, and it's under severe pressure.

The company on Friday reported its biggest drop in quarterly sales in at least a decade, sending the shares down as much as 16 percent, the most in 17 years.
Analysts at Raymond James estimated that same-store sales fell by as much as 9 percent, even worse than during the height of the financial crisis.

All clothing retailers had a tough autumn season, thanks to unhelpful weather patterns in some key markets and the continuing trend of consumers spending on experiences.
But, for H&M, the challenges are particularly acute.
Primark is expanding internationally, particularly in the U.S, which accounted for 13.3 percent of H&M's sales in 2016, according to Bloomberg data. So, unless ABF has a strategic change of heart, the picture on Staten Island is going to be repeated across the country.
Inditex's Zara has so far remained resilient to all of these challenges, thanks to its faster-fashion model. It said on Wednesday that it had a good start to its fourth quarter, after slower growth in the preceding three months.

Meanwhile, online rivals such as Asos Plc and the U.K.'s Boohoo.com Plc are also expanding internationally.
H&M will add another new concept next year, but that looks ambitious given that it launched Arket less than 12 months ago, and that the namesake chain needs some surgery.
Its plan to close some of its core stores and turn them into hubs for collecting and returning online orders is a good start, as is a move to extend co-operation with Alibaba Group Holding Ltd's Tmall to the H&M brand.
But the need to reinvigorate its key label comes as investment has burned through much of its cash balance. It is still forecast to have net cash 2.5 billion kronor ($300 million) as of Nov. 30, according to the Bloomberg consensus, but that's down from 7.1 billion kronor a year earlier. Although the company is relaxed about having net debt, reduced financial flexibility when it is overhauling its biggest brand is less comfortable for investors.
But there's a broader message here. While Inditex is still flying high, some of H&M's problems are a warning to its so-far invincible rival.
As Bloomberg Intelligence's Charles Allen has noted, clothing retailers from Britain's Next Plc to South Africa's Woolworths Holdings Ltd. are all finally waking up to its supply chain advantage, and are shortening the time it takes to get the latest looks into stores. After being ahead for so long, Inditex could find its lead crimped.
It is also not immune from the twin threats of Primark and online-only rivals, who can re-order best sellers quickly and are steadily building international scale.
H&M's fashion fail is a warning for even the strongest players.
Before it's here, it's on the Bloomberg Terminal.
LEARN MORE